To create a good creative or landing page, a webmaster can spend a significant part of his time searching for it, adapting it for himself, or creating it on his own. But he can spend even more time and more budget on conducting A / B testing, since he can never be sure for sure what will convert better in one GEO or another.
   But what if there is a unique solution that can not only be a stock of popular content, but can also provide clear analytics on what is currently popular in a certain country from advertising, show already defined working links? The data obtained on these services can bring a good profit to the webmaster if he can correctly use it in working with traffic. How these services work, what are their pros and cons, we will consider in this article. 


What is a Spy service and what options does it provide?
Spy service (spy tool) is a unique platform for monitoring advertising networks in contextual, teaser and targeted advertising. Spays create fake social media profiles and bots that monitor search results, collect all advertisements, and then upload them to the database. For the convenience of searching, the services provide filtering by numerous parameters, such as keywords, geo, languages, content type, date of creation, product or product landing, and many others. In simple words - a service that finds working funnels in nutra affiliate marketing with the ability to set search parameters. 
The main useful functions for the webmaster include the following:
The first and perhaps the main one is funnel monitoring, which is now showing good results. You can see the link up to the set settings, the offer and the traffic source, which can be adapted to the existing offer.
Search for creatives by the set parameters.
Conduct competitor monitoring and market analytics along the vertical in which the webmaster works
Track trending offers, formats and landing pages, approaches to preparing advertising campaigns.
Savings significant time and budget when looking for a profitable funnel.
Depending on what sources the bots use, you can categorize spy services by advertising networks. So we get several categories:
Facebook and related social networks
Mobile ads
Teaser advertising
Push messages
You can use them to see what your competitors are doing, find new effective creatives, analyse effective bundles, and find new approaches. However, it's worth noting that you can't simply copy the bundles you find. Here's why it's not a good idea:
First, an offer or a bundle are already "burnt out", conversion won't be good.
Secondly, a spy service copies only some part of settings, you may make a mistake.
Thirdly, it may be unprofitable to drive traffic to this offer because someone else may use the same offer with better conditions.
So find inspiration and come up with something new or to make an unmatched offer from the offers you find.How to adapt an existing landing page or create a copy of the site, we described in detail in the article "How to make a copy of the site and adapt it to your needs?"
The modern market provides us with a good choice of Spy services that can be effective for certain purposes and specialize in monitoring advertising content to work with a specific traffic source. Let's take a look at several major platforms and conduct a comparative review.
Comparative overview of the most popular Spy services
For analysis, we chose 3 platforms that have a greater response from users, for how they specialize in working with Facebook, Native Ads and Adult sources.
AdHeart
Let's start with AdHeart - one of the popular Facebook and Instagram spy services from the creators of Publer, Telemetr and AdLover. The service provides a large database of creatives and will be especially useful for webmasters who work with nutra, gambling and crypto verticals. Simple and intuitive interface, with the function of downloading the selected creative with high resolution, detailed statistics and the ability to create blacklists.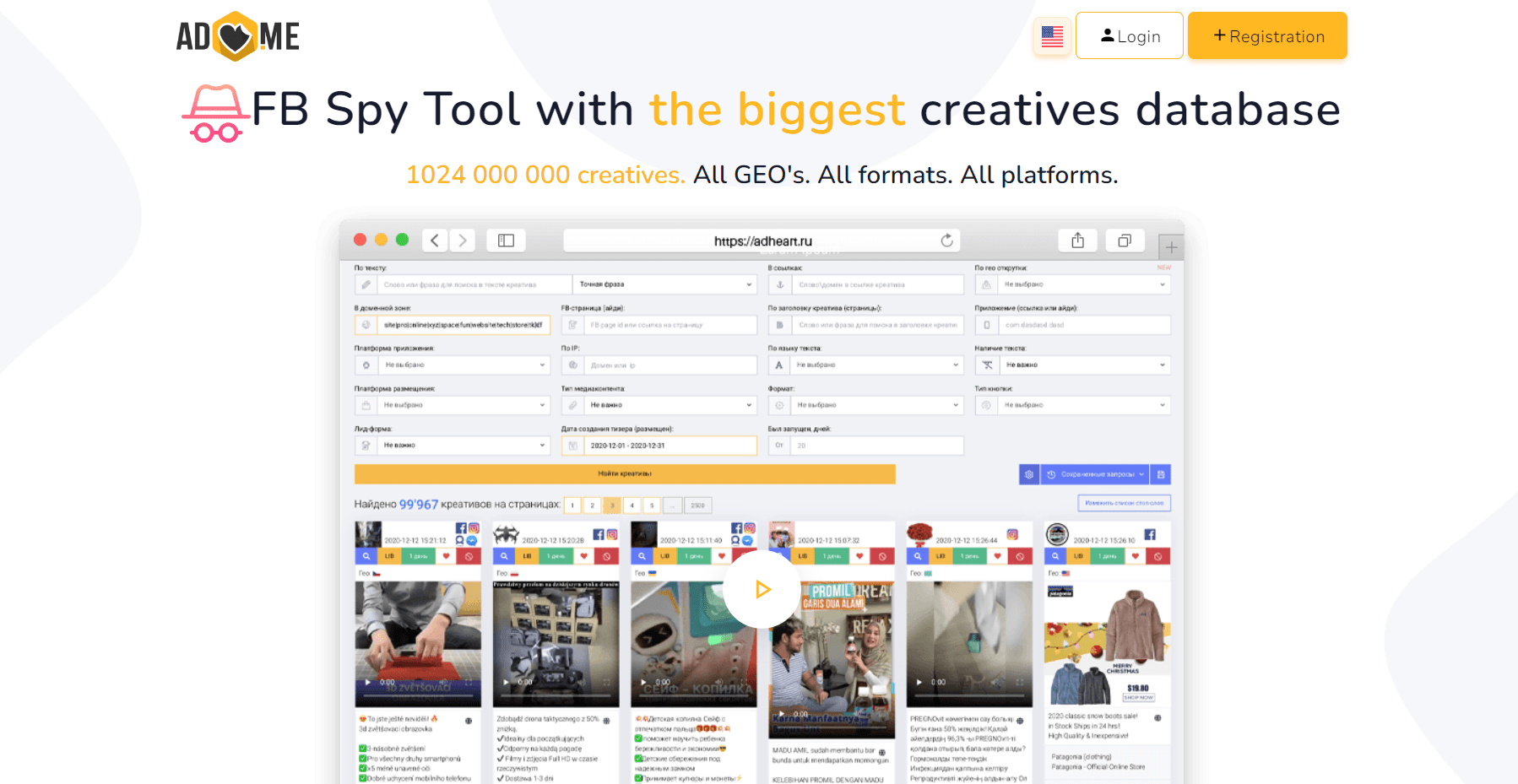 To date, the service base has more than 1023,000,000 creatives
creatives from 237 countries in over 50 languages. Search is also available on:
text in a creative
headline
link
country
domain
fanpage or app id

language
platform where the content is published
content type (picture or video)
advertising format
button type
days and periods of ad activity.
You can also spy mobile apps for iOS and Android.
As for disadvantages, you can't filter search results by type of interaction with creatives: likes, shares, etc. Some reviews also say that not all creatives are shown in search results. You will have to pay $53 per month to use AdHeart, but you can use a demo version with limited functionality.
AdSpy
Another very popular service is AdSpy - arguably the best solution for affiliates before AdHeart was developed. It's also used to work with Facebook and Instagram, but was designed for foreign traffic. The platform has a data base of over 121,000,000 ads for 216 countries in 88 languages.
You can search using the following parameters:
text in an ad
sex
age
country
language

multimedia type (picture/video)
comments
affiliate program
CMS 
Another important thing is that you can filter search results by the number of likes and shares, and the date of ad publication. AdSpy can find out what audience ads are targeted at, based on the users' location, sex and age. So it can draw your attention to regions and markets you overlooked in the past. Disadvantages: some users complain that search results are incorrect, others aren't satisfied with the client service and slow searches.
AdSpy costs $149 per month and has no trial version.
AdPlexity
The third service to discuss is AdPlexity – one of the most popular services for affiliates and marketers in the world. The service collects analytics from all over the world, and is also capable of analyzing content from more than 100 traffic sources and mobile operators (for the mobile version). Its distinctive feature is the deep analysis of native adult ads.
Depending on the vertical and sources, you can use several versions of this tool:
Mobile
Adult
Native
Push
Desktop
E-commerce
In thia article we will look at the Native version. Adplexity Native allows you to monitor native ad campaigns running in over 32 countries from 7 of the most popular native ad networks in the west, including Taboola and Outbrain. The native format, as a rule, is one of the most popular due to its positive response from the audience, but at the same time, the webmaster cannot always fully predict what result in terms of indicators and conversion this ad will have. It should also be noted that often tests of native advertising can be more expensive for the webmaster. But with a well-built and relevant ad and a quality landing page, the labor costs will pay off quickly enough, which, of course, Adplexity Native can help with.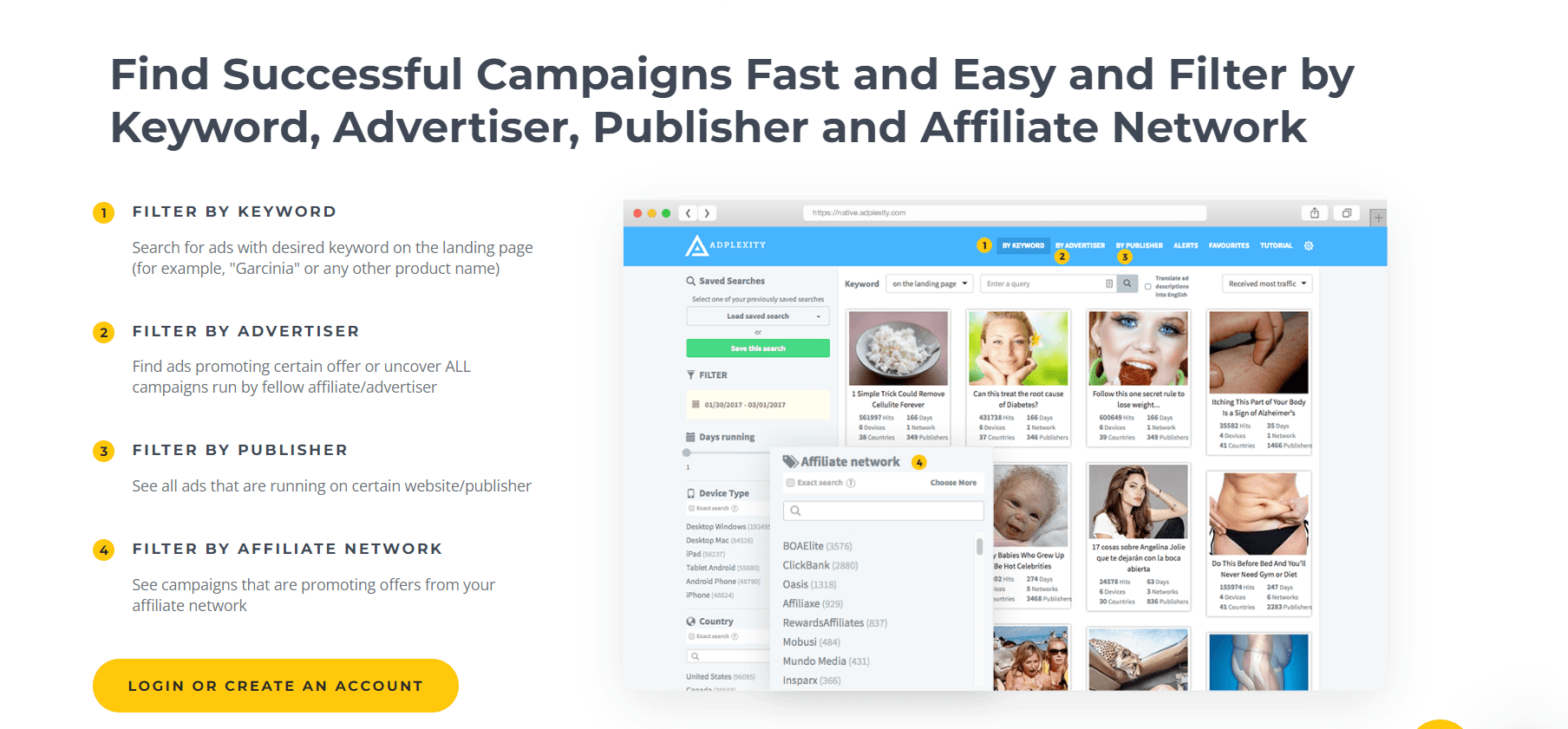 This service allows to filter campaigns by:
keywords
advertiser
affiliate networks
With its help you can also see for how long the campaign has been active, target devices, where the traffic is bought, and where most traffic is. The disadvantages are that it'll be hard for a beginner to understand how the service works without support, and the need to buy a new subscription for every ad format.
The native version costs from $207.5 per year. This tool has no trial version, but you can pay for it and then get your money back within 24 hours.
If you aren't ready to buy subscription right now, you can start with open ad libraries such as Facebook Ad Library . You can also search for ads in specific regions manually, visiting ad networks with the help of VPN or a proxy. You can also try to look for ads manually: in this case, all you need is time and desire, no programs.
Finding funnels in AdHeart
In our video "Spy tools for affiliate marketing: comparative review and how-to-use guide" we described in detail how to search for funnels using the AdHeart service as an example when working with the inside vertical in the "joints" niche. Follow the link to view a step-by-step manual for working with this service.
Conclusion
So, today we have reviewed the useful features of various Spy services, which can save a lot of time and budget for a webmaster. We also always advise you to remember that these tools are auxiliary and the success of your work with traffic always depends only on you, the tests carried out and qualitative analysis and analytics, which will serve as a powerful foundation for further increase in traffic volume. With care for your profit, your dr.cash!
Want to start with nutra? Have questions about the case-study?
All the nutra is discussed now 24/7 in the telegram chat Nutra Affiliate Community 
Quick help for beginners
Sweet cases for motivation
Exclusive bonuses from partners $$$$
Intelligent moderators and all support for affiliate network in one place
25.11.2022