Users who follow links from push notifications are push traffic. The webmaster receives push traffic by working with advertising push networks. Currently, opinions about working with this type of traffic differ: some have not used them for work for a long time, while others still continue to drive traffic from push notifications and earn good money. Because there are a large number of real paying users in the world who subscribe to push notifications on their own.
   Therefore, the available bases for push notifications are the working target audience, which is actively ready to follow the notifications they receive. We also talk about this topic in detail in our video. Pleasant bonuses are available from partners for all viewers.
Why choose push traffic over FB?
1. One of the most important factors is ease of operation. The whole algorithm of work in push notifications looks like this:
offer selection
choice of advertising push network
creation of creatives
testing
sorting traffic sources into white and black pages 
working with white pages.
2. Inexpensive traffic. Webmaster does not need to spend additional money on purchasing proxy and trust accounts and using an anti-detect browser. Depending on the GEO, a thousand clicks can cost $10 or $1.
3. Opportunity to start working with small budgets. A webmaster does not need a large budget to launch an advertising campaign. By topping up an account in the push network with $50, he can spill on everything, while the FB security system can significantly affect the entire launch process.
4. Restrictions. When working with push traffic, there are rules for placing an advertising campaign for moderation, but they are much simplified in comparison with FB.
5. Quick check ads. Depending on the workload of employees, ads can be reviewed in less than half an hour on some networks.
6. Quick tests. Push traffic allows you to quickly launch campaigns, and an experienced webmaster can evaluate their effectiveness in a relatively short time.
Possible difficulties when working with push traffic.
Not all advertisers like the quality of push traffic. This is due to how users generally perceive the push ad format. While Facebook offers leads of a fairly high quality and an audience for any vertical.
Targeting in push networks is not as detailed as on Facebook. In most cases, you can select operating system versions, device types, models, languages, countries, regions, and cities. In addition, there is also a choice of subscription age: more recent users, as a rule, have not yet encountered a large flow of advertising and are more susceptible to it and as a result they are more expensive. Some networks may offer retargeting and even interest targeting. To optimize campaigns, blackpages are used - that is, groups of traffic sources that the webmaster excludes and white pages - those groups of sources from which leads come.
Facebook has learning algorithms that themselves can find a more suitable target audience. This option is not available for push traffic. Therefore, it is necessary to conduct analytics and run a campaign to a positive ROI on your own.
Bot traffic. When working with push networks, you may encounter bot traffic.
How to choose a Push Network for work!?
In order to successfully drive from push notifications and avoid all sorts of problems at work, you need to correctly approach the choice of a network. Criteria for comfortable and productive work:
coverage by GEO and number of people
traffic quality (pay attention to reviews, chats, articles, research on how the network works with bot traffic)
functionality, available ad formats, targeting settings and other useful features
payment formats can also vary, somewhere you can find automated algorithms for selecting optimal rates
support and the work of managers in general
Consider the TOP 3 PUSH Ad Networks on the market, their useful options to work with.
The advertising network has been operating since 2011 and currently offers users 120,370 impressions per second, which is more than 10 billion per day. Also, 195 GEOs are available for work.
The network focuses on the quality of traffic and uses the most advanced tools to combat bots.
Advertising formats in front of you. In-pages can be called one of the advantages, because thanks to them, you can show ads on iOS.
There are several payment models. There are also algorithms that can optimize campaign costs, saving time and money.
As for targeting, there is an extensive list of items + the ability to select interests. Another useful option is the ability to retarget.
The support is 24/7, there is a chat in Telegram.
The required budget to start is $100.
The network has been operating since 2019 and offers more than 1 billion daily impressions for its users, in more than 180 countries.
Multiple formats to choose from, In-page push is also available.
Multiple audience options. Dating - allows you to send traffic to adult.
Payment model - CPC.
A standard choice of targeting options and the ability to limit both impressions and clicks per 1 user.
Support works 24/7 and has a lot of positive reviews on the Internet. Moderation is relatively fast.
The required budget to start is $100.
This is a self-serve advertising platform where scale meets performance. The following formats are available for work: push, pops, in-page, calendar, direct click, native. RichAds also offers 5B impressions daily in 200+ countries worldwide.
Why choose RichAds?

• 5B+ impressions per day for the perfect scaling
• Top verticals: gambling, betting, adult dating, antivirus, cleaners, VPN, and more
• Premium sources with incredibly high conversion rates

• Expert support (ready-made whitelists, custom creatives for your offers, turn-key ad campaigns)
• Target CPA for the best bids and HQ traffic (300% ROI with auto-optimization)

• Flagship features: Optimizer, Predictor, Multiformat, Performance mode
• Adult traffic with no restrictions
The network has been operating since 2018 and offers over 2 billion impressions per day with a subscriber base of over 300 million people. Available ad formats:
Targeting is configured according to standard parameters.
There are several payment models (CPC/CPM).
There are certain limitations in working with creatives, which you should familiarize yourself with first.
Support and moderation work quickly 24/7. The site provides information that moderation takes 20 minutes.
The minimum budget to start is $100. For payments, the network offers a very extensive list.
There are different reviews on the Internet, top ad networks that offer a large pool of options for working with advertising campaigns. To choose the best one for yourself, of course, you need tests, research and your own background. In the next article, we will show in detail how to properly launch a push network campaign and analyze it.
Want to start with nutra? Have questions about the case-study?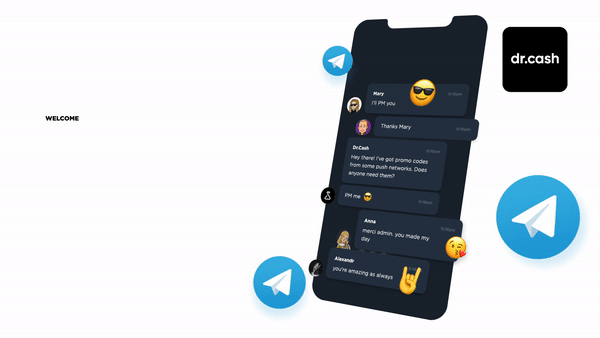 All the nutra is discussed now 24/7 in the telegram chat  Nutra Affiliate Community 
Quick help for beginners
Sweet cases for motivation
Exclusive bonuses from partners $$$$
Intelligent moderators and all support for affiliate network in one place
25.08.2023