Affiliate marketing is all about finding the right traffic source to promote your offers effectively. In this article, we'll explore the potential of utilizing push traffic from AdOperator to promote Nutra offers from dr.cash, focusing on the Austrian market. We'll dive into the specifics of COD (Cash on Delivery) Nutra offers and how to make the most of push traffic. To sweeten the deal, we've got special coupons from AdOperator and exclusive offers from dr.cash for you at the end.
Why Choose Push Traffic from AdOperator?
AdOperator is a trusted platform for affiliate marketers, offering diverse traffic sources, including push, popunder and In-page push traffic.
Here's why AdOperator is an excellent choice:
Quality traffic. AdOperator provides access to high-quality push traffic sources, ensuring your ads reach a relevant and engaged audience.
Advanced targeting. The platform offers advanced targeting options, enabling you to refine your audience by location, device, OS and more.
User-Friendly Interface. AdOperator's intuitive interface simplifies campaign setup and management, even for newcomers to affiliate marketing.
Imagine you're targeting the Austria region with nutra offers. This region presents a unique set of opportunities and challenges, which is where push traffic from AdOperator comes into play. Now, let's explore how you can effectively utilize AdOperator's push traffic to promote dr.cash COD Nutra offers in Austria:
Creating an advertising campaign in AdOperator
Choose your offer. Visit dr.cash and select a suitable COD Nutra offer for the Austrian market. Ensure it complies with local regulations and appeals to your target audience.
Create your campaign. Log in to your AdOperator account and set up a new push traffic campaign. Specify Austria as your target geo. Match the correct rating.
Audience targeting. Define your audience by precisely targeting push notifications based on factors such as location, device type, browser language, IP address, etc. This means you can customize your message so that it resonates with Austrian audiences, which increases audience interest.
A selection of creatives. Create eye-catching advertising creatives that emphasize the benefits of your chosen offer. Highlight its unique selling points and create a sense of urgency. Find your audience's trigger that you can solve with the promoted product.
Optimization of ad text. Write compelling ad text that will encourage the user to move on. Use clear and concise language to clearly describe the value of your offer.
Landing page optimization. Make sure your landing page is optimized for conversions. It should contain basic information about the offer and have an easy-to-navigate layout. Set up and connect postback, which allows you to optimize your campaigns to control your budget and lower your conversion price.
Testing and optimization. Continuously monitor your campaign's performance and make data-driven adjustments to improve your ROI.
To reward your efforts, there is an exclusive offer for dr.cash users. Use the code "DR.CASH" when topping up your AdOperator account on $500 to receive bonus $50. This bonus will provide you with extra funds to explore different targeting options and maximize your campaign's potential.
In conclusion, it should be noted that using AdOperator push traffic to promote dr.cash offers is a promising strategy for affiliate marketers.Don't forget to take advantage of special offers from AdOperator and dr.cash to maximize your affiliate marketing success. Have a successful work and high ROI!
AdOperator also has a customer support team that will help with any question you may have - support@adoperator.com or on Skype at live:.cid.c2f234f575bb4bd7
Want to start with nutra? Have questions about the case-study?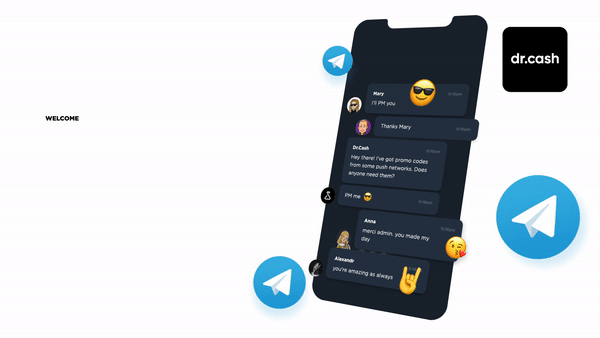 All the nutra is discussed now 24/7 in the telegram chat  Nutra Affiliate Community 
Quick help for beginners
Sweet cases for motivation
Exclusive bonuses from partners $$$$
Intelligent moderators and all support for affiliate network in one place
07.09.2023