Every webmaster knows that the success of an advertising campaign depends not only on skill, but also on a competent combination of tools that he may need for this. Trackers are one such tool. After all, it is they who help to track data, set up filters, conduct analytics and provide a good basis for increasing results. Recently, dr.cash conducted a joint interview with Grigory Babansky, head of the Keitaro tracker sales department, where we discussed all the main principles of working with the Keitaro tracker, and also answered the main question: "Why is Keitaro one of the main tools for an affiliate marketer?" Gregory also spoke in detail about the new update 10.1 and its benefits.
How has the Keitaro service evolved?
Keitaro has passed quite a long and interesting way of its development. Initially, the service owner made the product himself, wrote the code and provided support to users. In general, the development of the project was influenced by two main factors: the owner's desire to develop the service and come up with new useful features and the growing interest among users. The functionality of the product itself began to evolve thanks to user requests for new tools and code correction requests. All feedback was carefully processed and formed the basis of new tasks for upgrading the service. Gradually, this grew into a community, which also led to the expansion of staff and functions.
Why should you learn Keitaro as soon as you enter Affiliate Marketing?
There are several objective reasons for this:
In Affiliate Marketing, Keitaro is one of the industry standards and everyone who wants to develop in the field should have the skills to work with this tool.
Keitaro is quite freely customizable if you know how to do it right. Many users write custom things, such as filters, macros, which are available through the documentation if you have skills in coding and customizing Keitaro. In the field of Affiliate Marketing, such a number of users is quite large and the tracker itself is developing and improving. Every specialist who wants to develop and earn good money must keep up with the trends. This will give him an added advantage.
One of the main advantages of the service is that it is a platform for integrating the tools necessary for a webmaster (anti-detect browsers, proxies, cost integrators, etc.). The user cannot work in only one service, he needs a base in which all this will converge and be displayed for processing and analysis.
How to quickly master the skills of working in Keitaro?
The most important thing is practice. It is better to start working with the tool right away, even if you have just started your journey in working with traffic. One of the most workable options to start with is to launch an advertising campaign on a small budget. In the process of work (for the purpose of not making money, but learning how to use the tracker), the user will definitely get a tremendous experience. In the process of work, a person begins to form practical and specific questions, with which the support of the Keitaro service helps them. Service support always provides assistance for webmasters at all stages of work.
Keitaro has a very clear interface that makes it as easy as possible for the user to work with the service and is an additional bonus for the user at the start. From the above, there are several main steps:
Launching an advertising campaign with a small budget to start practical work with the tracker.
Study of materials and necessary documentation.
Communication with the technical support of the service, which will help at any stage of work.
What integrations does Keitaro have?
All integrations can be divided into several groups based on their functionality:
Integrations that allow you to collect traffic costs (Dolphin, Fb tool, Keitaro integration that collects costs from FB).
Integrations that allow you to work with domains (connect them, buy edit, etc.). These are integrations with NameCheap and CloudFlare, they basically work in conjunction and optimize the whole domain management work very well.
Integrations that help with moderation (third-party services that integrate with our API tracker - Im Klo and the Hide.Click service. They work with FB and TikTok and help bypass moderation, for groups of goods or services that may be prohibited from being displayed on These tools are connected quite simply, as there are all the necessary instructions and step-by-step setup manuals.
Integrations that the user can make himself by writing custom filters or scripts, adding them to the server. This type is already suitable for more experienced users who can write code either on their own or have a developer on staff. This format is placed in front of the tracker according to the principle of applications, in which moderation takes place, and traffic goes to the tracker not from the original source (for example, not from Facebook), but directly from the application.
How to pass moderation?
Keitaro does not position itself as a moderation service, but with proper use of the tools that it offers or in combination with other services, it naturally works.
Use of third party services. If you are just starting out, then it is better to work with services that help you pour from FB and TikTok - Im Klo and Hide.Click. Services take on most of the technical work: setting up, adding additional ip lists, user agents, setting filters, etc.
A complex approach. You should not focus on a filter that blocks all bots (an account can be banned long before traffic arrives in the tracker). The filter is enabled when traffic already enters the tracker. It will be more useful to direct your focus to the competent preparation of tools (quality pre-landers and landers, trust accounts, normal payments), i.e. prepare everything comprehensively.
Working with applications. If you don't want to devote a lot of time to the points above, then it will be best for you to work with applications, since they have already been written and promoted on marketplaces as trusted ones. When working in this format, it may be difficult to integrate the tracker and the application.
Standard filter settings in Keitaro: filter bot, filter countries, etc. Keitaro's materials also contain information on how to enable the desired filter setting for the tracker for free.
Creation of a trust account. There is no "Pass moderation" button, but there is a complex algorithm of actions that includes all the steps to create a trust account from which you can run ads.
What are the useful features in Keitaro for affiliates?
Keitaro is a systematic approach and analytics (viewing statistics, negative sites, postbacks). Therefore, the service provides an opportunity to conduct an analytical approach in its activities. Any launch of an advertising campaign is an experience, even if it is negative. For example, when working with blacklists and whitelists, if you get a negative result, then in any case, in the tracker you see sites with low-converting traffic. If you remove these sites next time, you will be optimizing your ad campaign to show ads on sites with higher conversion rates. These functions form a systematic approach and analytics.
The fundamental principle in Affiliate Marketing is test, optimize, increase traffic, repeat. For each of these 4 items, Keitaro can give tools:
Test. Searching for a profitable funnel. Therefore, if you run more tests, then you will find a converting funnel faster than a competitor, drive traffic to it and get a profit. Keitaro provides an opportunity to work with landers and offers, which are the basis of funnels (working inside the tracker with landers, redirects, lander editor, split test of landers and offers).
Optimize. Optimizing an already found funnel:
- work with black and white lists.
- the tracker helps to find converting creative, source, key, etc.
- working with a team: different accesses, access levels, distribution of roles in a team, etc.
- reporting monitoring: reports on clicks (traffic volume, traffic price, cost control), conversion reports in the tracker (synchronization between you and the affiliate or advertiser), aggregated reports (data calculated by the tracker itself, which you can filter and group according to the necessary data ).
Increase your traffic. The ability to share the found funnel with buyers so that they can drive traffic to it.
Repeat. Everything that you did for the first time, adapt for yourself, create new users with equal rights, reducing the time of work each time.
How is the development of functionality in Keitaro?
In general, the development of the service and the development of new functions consists of a balance between 3 factors:
Backend (what the user does not see) is the creation of a technological base for the tracker, on which all features are created, its technological development and in accordance with the available modern technologies.
Our vision of the product and its development (goals, target audience and directions).
User reviews, which are often based on market trends.
We understand that Keitaro is a product for people, and we work with reviews in the most careful way, which go through a thorough analysis stage to improve the quality of the service.
What are the main differences between version 9 and 10?
The key difference is the technological foundation. The database engine from mysql was rewritten on ClickHouse. Based on this upgrade, there are more opportunities for introducing new features and increasing the performance of the tracker.
New Name cheap and Cloudflare integrations
New native database.
IPv6 supported
Version 10.1
The most important thing is the ability to integrate expenses from Google Ads and TikTok and connect cabinets.
Updated user rights management system. Previously, it was not possible to do "Reading Mode", for example, only for one offer, and such a mode was possible only for the entire section with offers. "Reading mode" applies to all sections in the tracker.
Monetary metrics from unique clicks CPC, EPC, hold, approvals and general. The tracker considers financial metrics.
New conversion statuses for gambling: registrations and deposits.
The lander editor has been updated, the ability to upload new files without reloading the archive, manage files, etc. has been added.
Reworking the color palette in the dashboard.
How to competently integrate Keitaro into the ecosystem of work platforms?
First you need to determine the place of the tracker in the funnel. There are 5 such steps: Source - tracker - offer - postback to tracker - postback from tracker to source.
Traffic source, where the traffic comes from to the tracker.
The tracker that the traffic entered in a certain way (to the company link or to the integration link).
Offer (the conversion that is happening and that you want to track).
Postback back to tracker.
Postback from tracker to source
Everything needs to be considered in this coordinate system along the path of traffic, and go from the final goal, what you need from the tracker. For example, in order to track traffic, you must always place a tracker link in your source, or in order to receive conversions, you must send postbacks, etc.
What verticals and sources, types of offers is suitable for Keitaro?
Keitaro has no basic restrictions when working with offers. There is always a way to connect Keitaro to the offer, depending on the level of the request. There are also no vertical restrictions. However, multi-pages cannot be loaded into the tracker itself, some of the elements may not work. Speaking of suitable traffic sources, there are also many opportunities to work with: any source where you can put a tracker link (url), that traffic source will suit you.
The Keitaro team is always attentive to all the comments, feedback and wishes of its users and carefully considers each request to make the service even more optimal, multifunctional and convenient.
Want to start with nutra? Have questions about the case-study?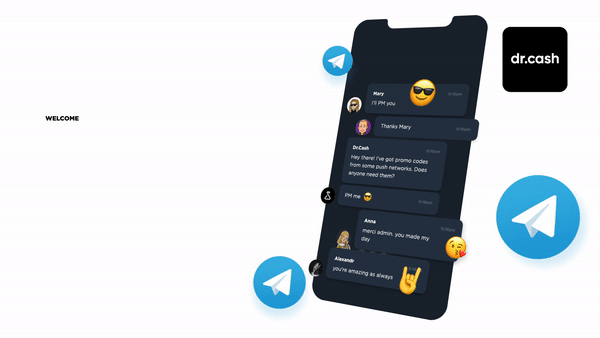 All the nutra is discussed now 24/7 in the telegram chat  Nutra Affiliate Community 
Quick help for beginners
Sweet cases for motivation
Exclusive bonuses from partners $$$$
Intelligent moderators and all support for affiliate network in one place
31.07.2023