In Affiliate Marketing, Facebook is definitely one of the most common and optimal sources of traffic. There are several objective reasons for this:
It is the largest social network in the world. Here you can find the widest audience across all GEOs and for any offer.
Facebook's optimization algorithms select the audience for our offers. Facebook shows its users only what they are interested in and thanks to this it is easy to work there, even for a beginner.
Facebook always leaves opportunities for publishers to enter. This means that once you get used to it, you can count on an almost stable income, the main thing is to stay constantly on topic, as changes are constantly taking place here.
These are just some of its advantages, but there are its own nuances as crackdowns with rejected ads for no apparent reason, locks, bans, etc. There is nothing to be scared about, all publishers go through it. Remember the most important thing: the more trust an account has, the less likely it is to experience difficulties. In other words, the way you prepare for driving will largely determine the success of the campaign. We also told you more about the launch of an advertising campaign from Facebook to white nutra offer in our video. 
Preparation and purchase of FB accounts:
Register and farm yourself. We have a detailed instruction on how to do it here. But it's a long, painful process and not everyone will dare to do it, so it is used either in teams where there is a Farm-department, or for earning money by selling these accounts.
Work with various purchased accounts.
When buying there are 2 tasks: not to get scammed and to buy quality consumables. In order not to give your money to scammers you need to stick to the basic truths as in a normal market:
First of all, if you know someone who has contacts of verified sellers, ask for them.
Secondly, you can ask in groups and ask for recommendations, but you need to realize that hungry scammers will also see your message. In this case, you need to search through several groups, and then look for reviews of sellers on the Internet.
Thirdly, you can buy through an agent, it is safer, but the choice of them should also be approached carefully.
When choosing a shop, look at its age, reputation and range. After you have identified the sellers, you need to test their goods. At this stage, you don't need to buy a large number of accounts. If you take a farmed account, for checking it, you just need to look it through. Here is a list of what you need to check after the purchase:
Filling. It's about the cover, avatar, profile picture and information, friends, posts, etc. It doesn't determine the level of trust, but can say more about the seller, how they approach things.
 Advertising in the profile. This is the main thing you should pay attention to during a quick look. If it is there, it is already a good sign. If the network wants to get money from you, it means that it thinks you are a real person.
Fan Page. Even one page in the account increases trust. Here you need to check if the information is filled out, if there are posts and subscribers, if the account is subscribed to any groups and has been active there. It is also important to make sure that the fan page has not received any warnings.
Activity log both on and off Facebook. In "Settings" you need to check the number of actions and sessions. Better there should be constant and diverse activity: subscriptions, posts, likes, friends, etc. Then, you need to check "Actions outside Facebook". With the help of its pixels Facebook sees our interests far beyond the social network. So, if there is nothing in this item, then the user is considered as a bot.
Also check Advertising Topics and Categories in the same section. The more topics, the more trust, because they are selected based on user actions and reactions. There should also be several items under "Categories".
Location. Everything is logical here; the GEO of the account must coincide with the GEO on which we drive. There is a link by which you can determine the GEO.
Account Quality. This item is accessed from the Business Account.
Let's get practical and take a step-by-step look at the process of launching a campaign with Facebook to white nutra offer.
Choosing an offer
In dr.cash, there are not so many whitehat offers, but they are still working and not yet wasted. We chose "Snaponsmile" offer - removable plastic veneers to mask dental problems. The product is not new for the CIS, but it is not yet a hit in the other countries. For our tests we chose two GEOs: Romania 22883 - SnapOnSmile - COD - [RO] and Italy 22882 - SnapOnSmile - COD - [IT].
Choose an offer with the GEO that interests you in dr.cash admin panel and create a campaign. Select rows transfer via API and save.
Next, you need to go to the created stream and download the PHP-formatted landing page that interests you. The API is set up already here, all you need to do is just drive it to your hosting and unzip it.
We've already drived the landing on our domain and can do a test lead. The lead passed, we look it up in dr. cash admin panel, we see lead in trash, that means that the landing is working, everything is ok.
Domain selection
Some words about domains that we use. For driving on whitehat offers we usually use expired domains that previously hosted sites on the topics we need. Such domains with history cost the same price as regular ones, but Facebook trust rate for such domains is higher. Especially if they have been previously published on Facebook and have any reactions. This is not so crucial for driving on gray/blackhat offers, such as Adult or Gambling, where accounts don't live long anyway and domain trust doesn't give such advantages as when you drive on white offers where the account life often determines your final ROI. 
The second reason we use expired domains is the white page. We pick up domains that have a copy of the site saved in the web archive, download that copy, and drive it in as a white page. This is not an non-alternative method, we use it because we drive with Google ads on these same domains, and Google has higher ad requirements for sites, and it can get more information about the site. Therefore, all the fuss with restoring the site from the archive is justified. You can do simpler whites on WordPress or HTML or use paid generators with Facebook or you can choose our method and use a free copy of the site from the archive.

Domain selection algorithm
We go to Expired Domains and select Deleted Domains in the settings and a listing no later than 30 days.In the search, we enter something like "Shop, Store", but it's really not that important.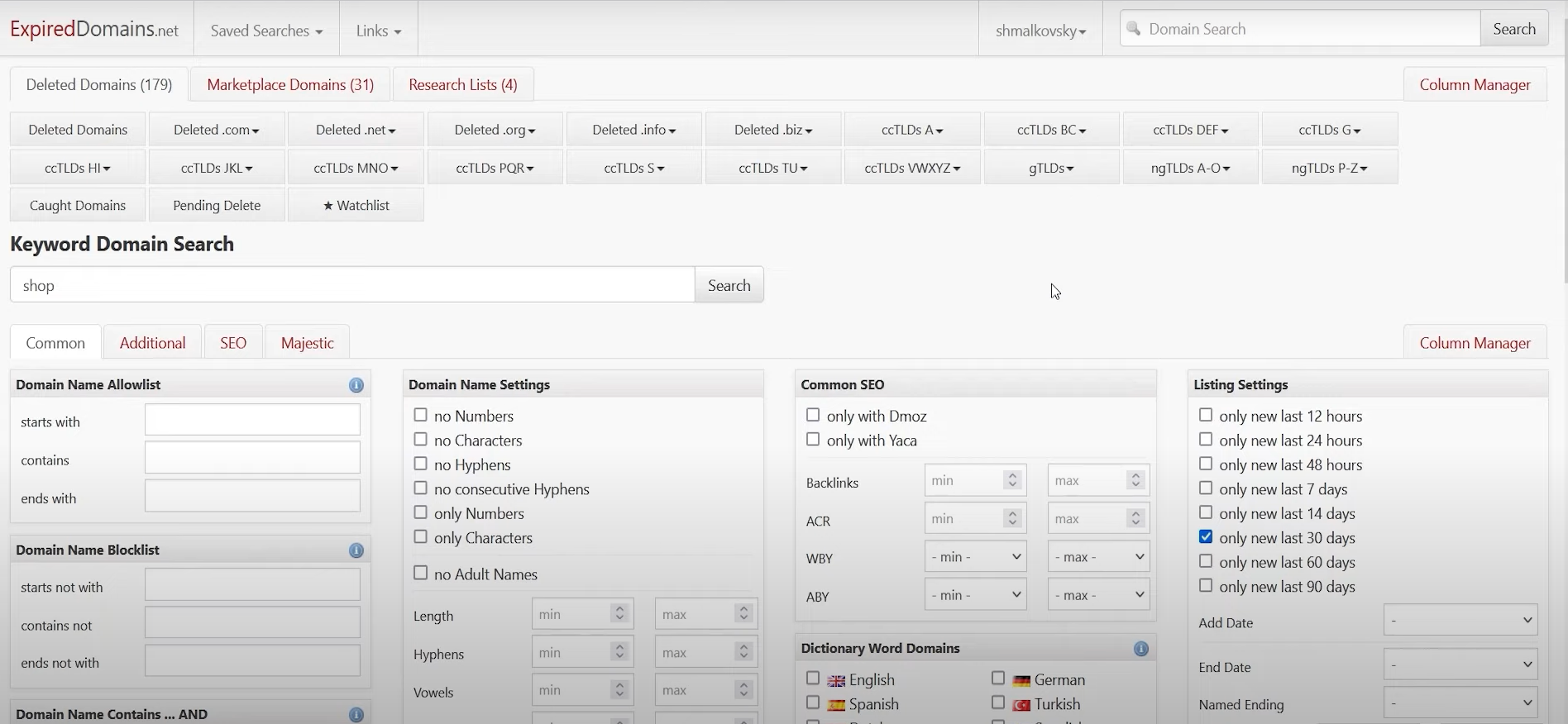 In the additional settings, we select the first three domain zones: com, org, biz. In the search, we enter something like "Shop, Store", but it's really not that important.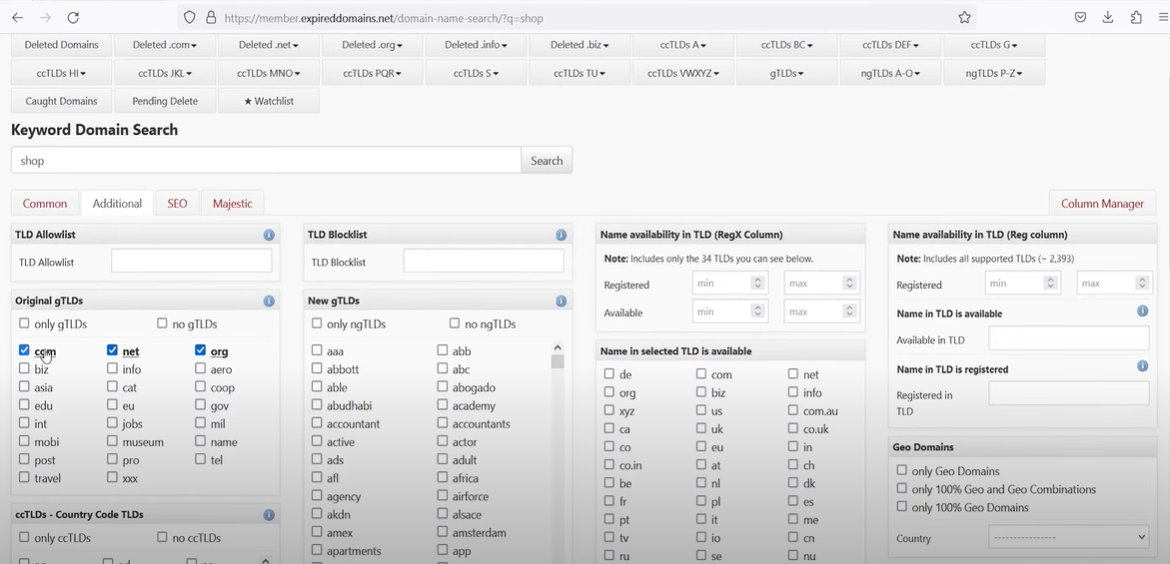 We've already run a little bit through the list of what Expired Domains gave out and have found us a domain.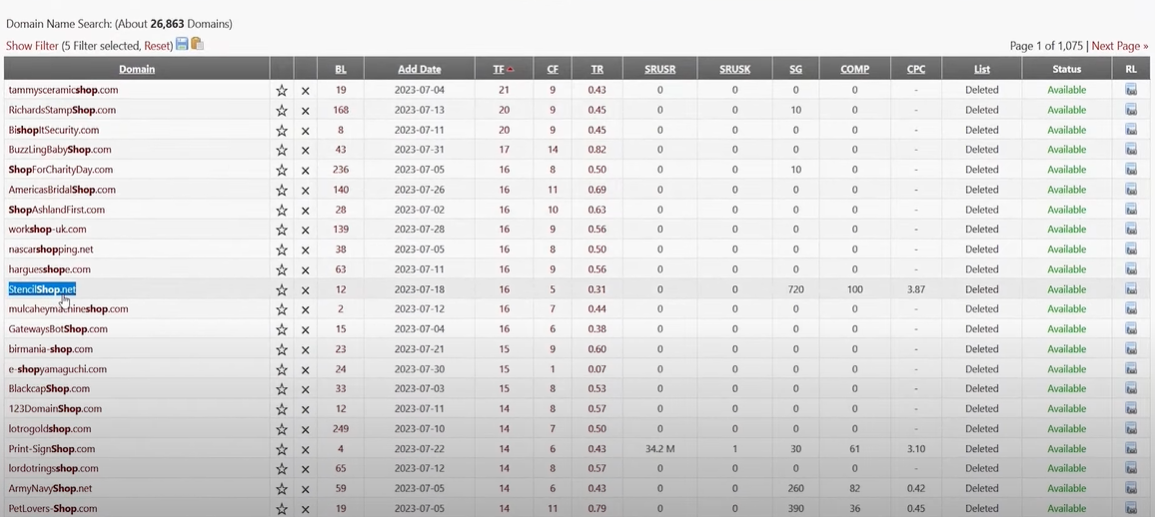 Let's check first with Backlink Checker from Ahrefs.com  and see if there isn't any garbage, porn links or alike.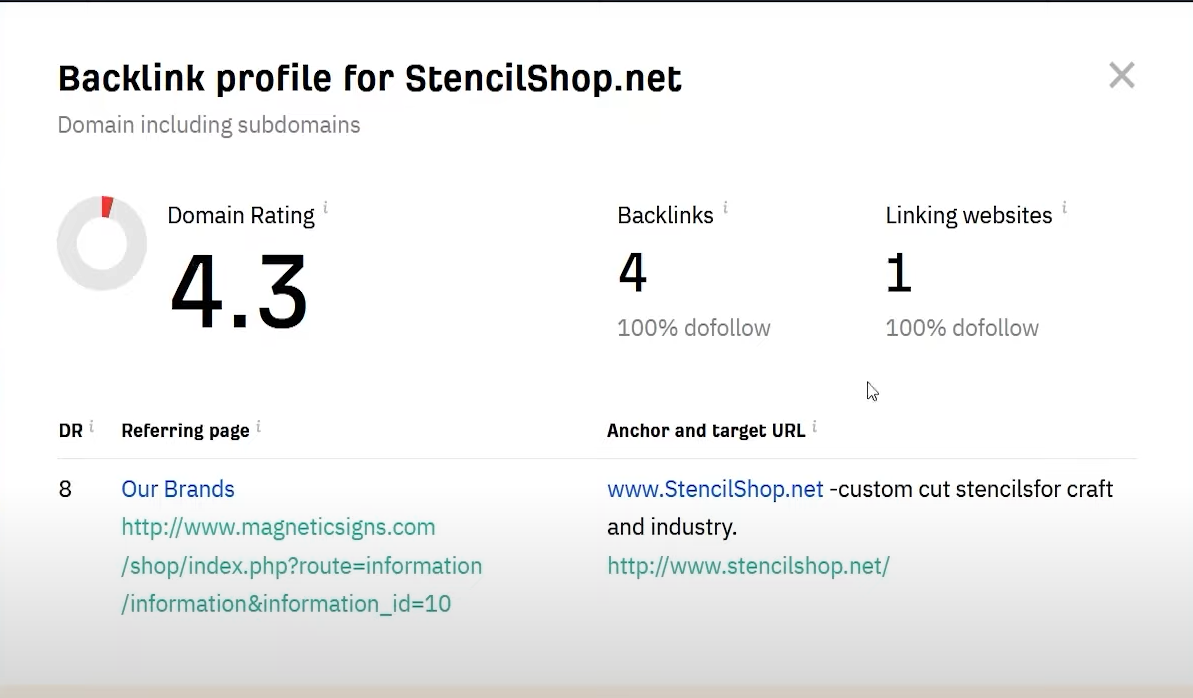 Then we go to web.archive.org and check if there is any current copy.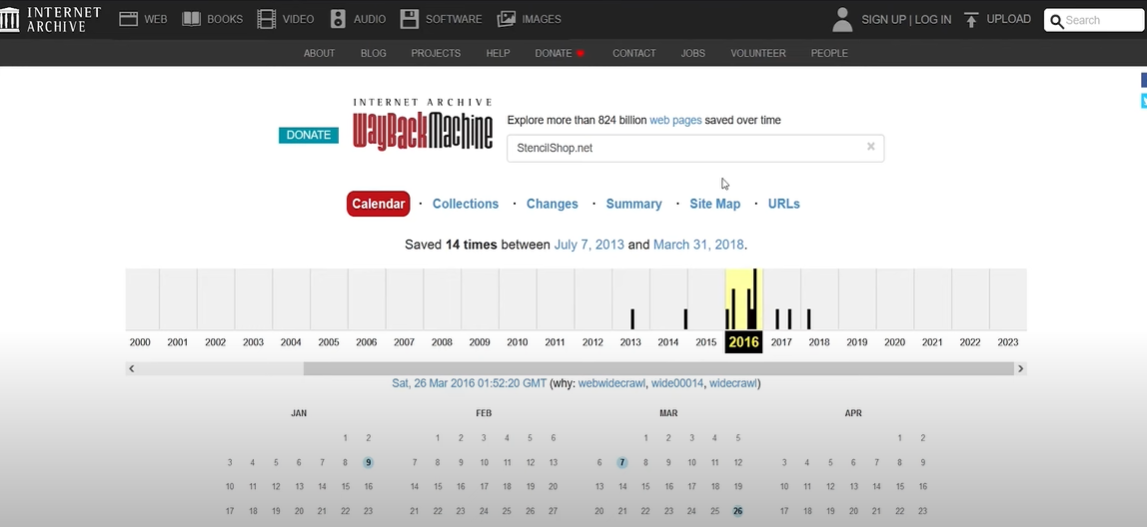 We see that a lot of snapshots were made in 2016. We check one of them and see the actual technical store. The subject matter isn't important, so this fits us.
Let's see if it is available in Namecheap. This is the cheapest domain name registrator. A domain in NAMECHEAP costs €10 and it is still free.
We picked up this domain for our driving SHOPHELLOGORGEOUS.COM. It used to be a local store of women's clothing in the United States. There is a contact page, it looks like a real site and we'll use it as a white page.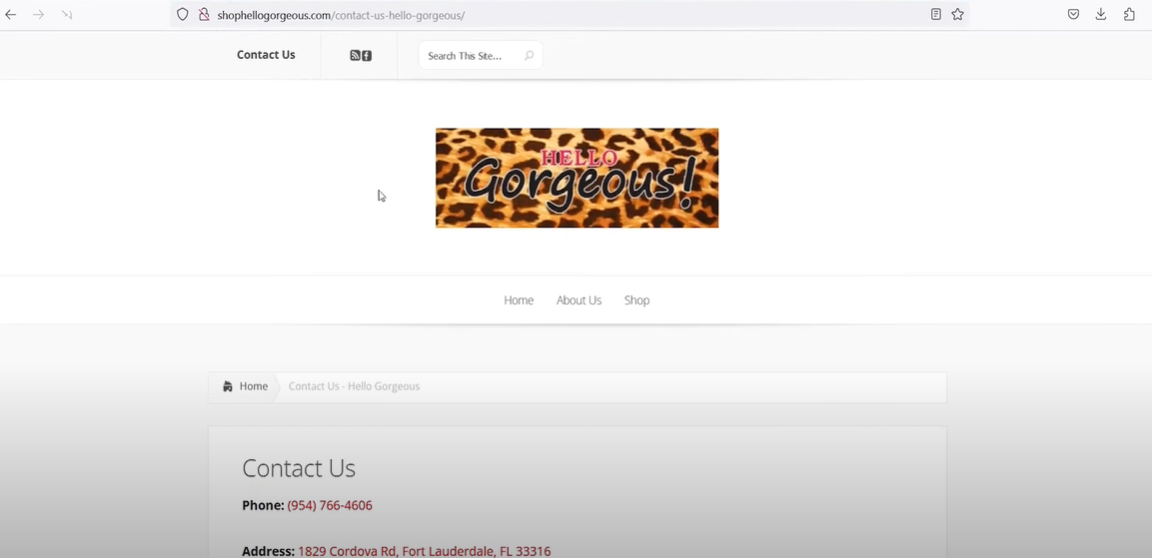 To download this version of the site we used the Archivarix service. Go to the site and all the instructions are there. Everything is simple and free. We wait for the archive and upload it to the hosting. Then, to finalize the preparation of the infrastructure for the upload, we need to upload and test the landing page.
In this tutorial, we use regular shared hosting and don't drive everything in Keitaro so as not to complicate the learning process with an additional step of setting up the tracker. However, when zooming or moving to work with more margin gray offers, the tracker will become a necessity. There are two separate videos on the Dr. Cash channel on working with Keitaro. The first one is for postback tracking and analytics, and the second one on using Keitaro as a cloaking while working with gray offers. In these two videos, Roma described in detail how to work with Keitaro. Be sure to watch it and practise after.


FB account preparation
FB accounts come in many forms: from simple autoregs to Farms under Kings, rental or agency accounts. More about the types and preparation of accounts talked about here.
SetUp:

There are a lot of account sellers. We use accounts from private sellers who don't put their accounts on marketplaces. A couple words about them:
GEO - Ukraine; 
Strong farms with interests and advertising in the feed;
Phone number - available both in FB and for mail, so, there is always an opportunity to pass a check by SMS.
Of the cons: only UA GEO and accounts cost $13.
Landing an account in the profile
All accounts come with cookies and User Agent; these are two main things we'll need. we use Indigo, here User Agent is edited in the non-obvious navigator section, then you need to select the system on which the account was farmed.
Then go to the proxy settings.We use mobile Ukrainian proxies by Astroproxy. It is currently the most popular solution on the market and for now it is sufficient. Proxy is checked, everything is fine, then save profile.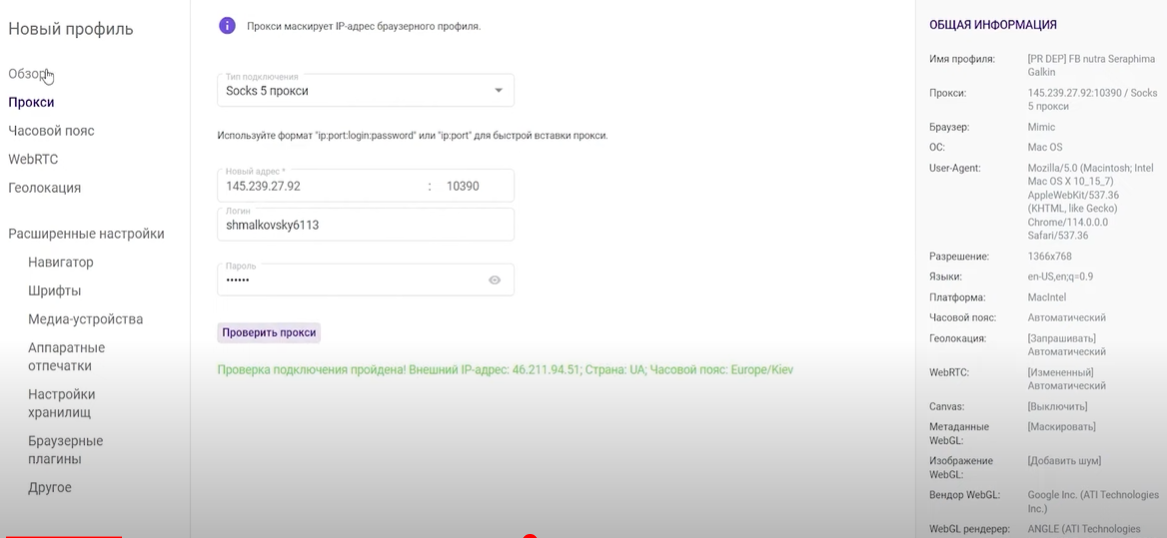 Next we need to add cookies. Download cookies and import them.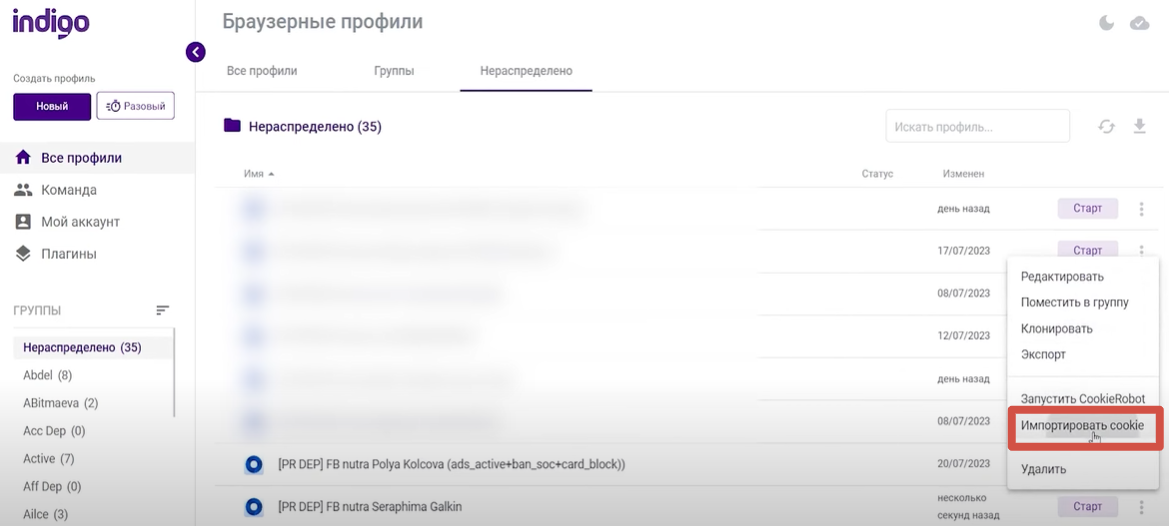 Next, we need to run Cookie Robot to google cookies on that particular device. This will also give Trust to your account. In Indigo Cookie robot is launched where cookies are imported. The list of sites for the cookie robot is made according to the GEO of your account. In our case it is Ukrainian GEO and we use women's sites, delivery sites, in general those sites that have Facebook Pixel and are connected in one way or another by the geography of the account.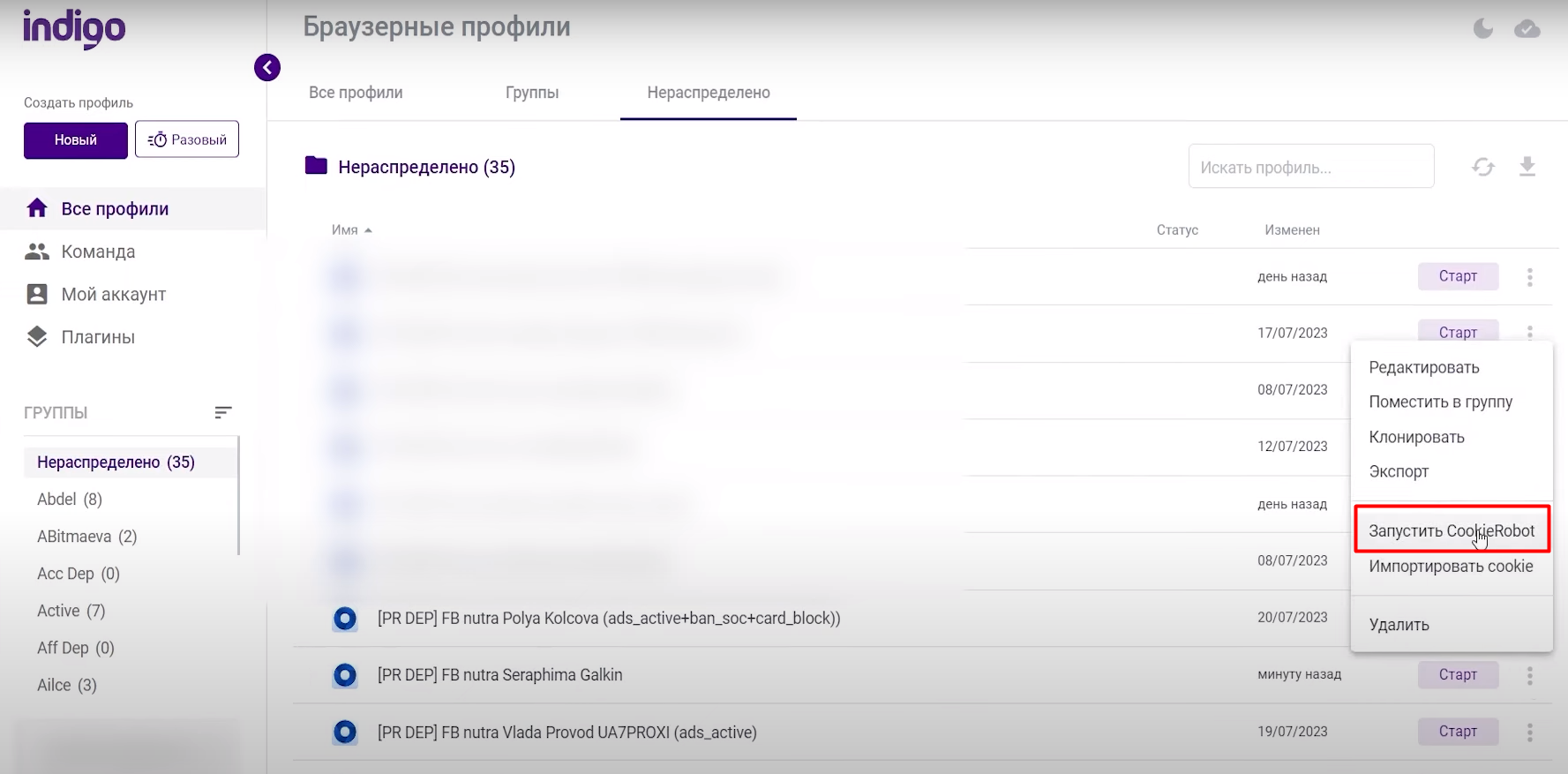 After launching the cookie robot, it starts googling cookies, including Facebook among the sites. This is how the first login to the account takes place. After the cookie robot finishes its work, you save the profile and forget about it for a day. After that check the feed, we see ads there (ad in the feed is the most important indicator that the account is perceived by Facebook as a real person's account and, accordingly, it is ready to drive ads).
Card linking
At the time of writing this manual, that is August 2023 UA accounts connect best with US BIN cards from EPN. Bins in this case are used by the US. Bin is the first 6 digits of the card, which determine the bank GEO that issued this card.
Each account has two fan pages with standard names. Choose the one that is more suitable by name to your offer. Now we need to create a post with some innocent picture. Through the Boost of that post, we're going to link the card. We'll set the boost for two days. The cost is also minimal $3.
Let's move on to linking the card.
Save the card. In this case, a standard error pops up: Facebook will ask us to confirm the temporary hold. As we can see, the card is actually added, now we need to go to the Ads manager. Ads manager is loaded, we go to billing. As we suspected, Facebook is asking to do a Hold. There's no way that's going to stop us from launching. Unless you are "first bill" hunter.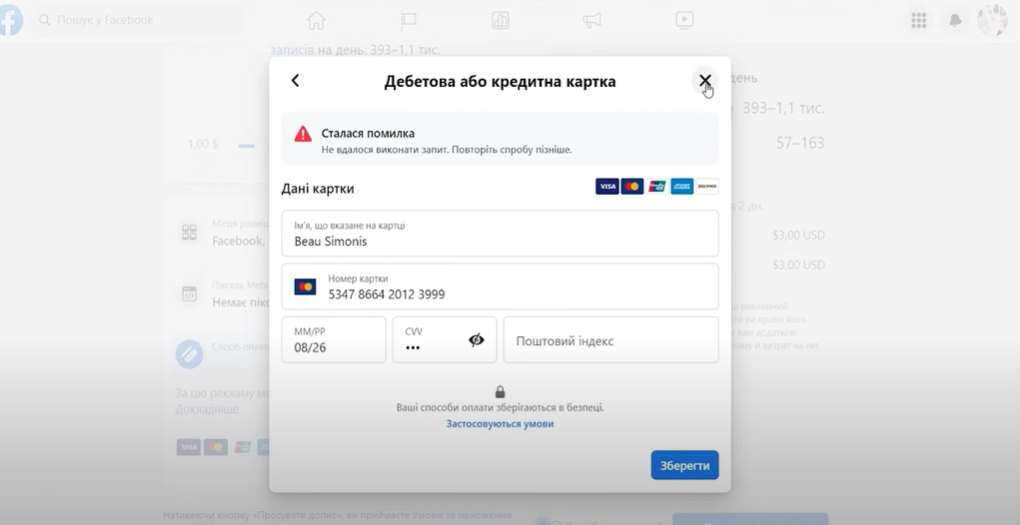 We publish our ad, which we run to warm up and the first billing, automatic one, which Facebook withdraws from our card and after which we'll move on to run the ad directly in Ads Manager. Our ad is sent for moderation. It'll pass it, then the boost budget will be successfully cut and the account will be fully ready for advertising.
We are ready to launch immediately. But before that, we can give more attention to the creatives.
Preparing Creatives
There are different approaches to make creatives, and to find them we need a spy-service, and the best one for Facebook is Adheart. Here everything is simple, just type in the search box the offer's name.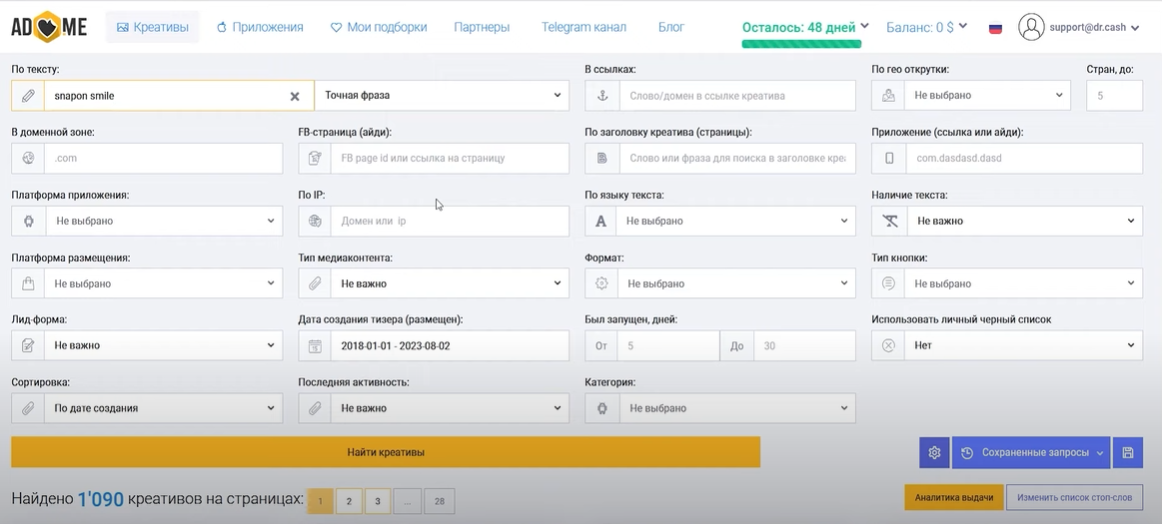 Here in the filters, you can select GEO, for example, we are interested in Italy. We can see what is topical for Italy at the moment.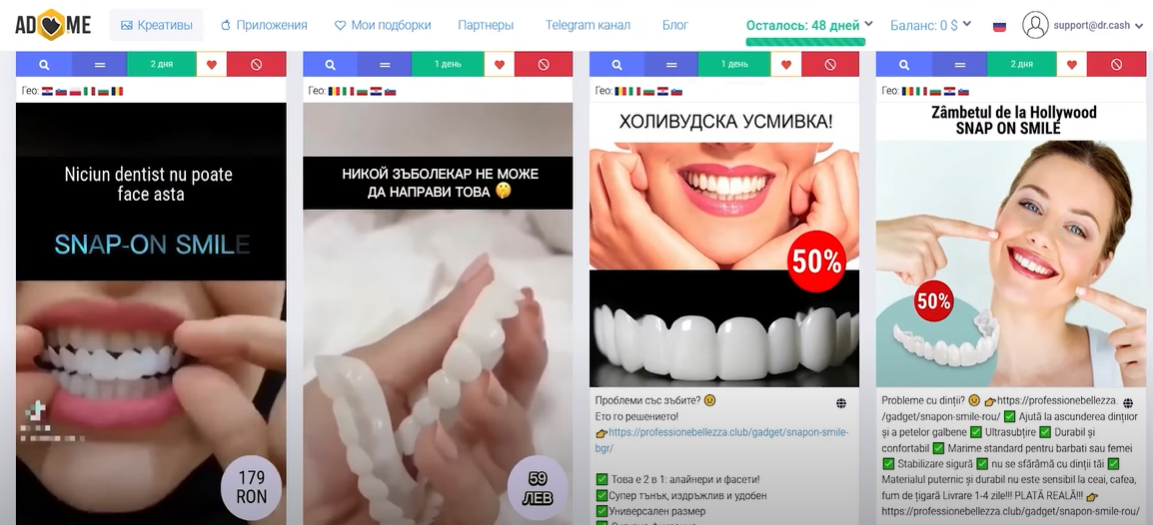 You can download a unique version of the creatives, but keep in mind that in this case they may lose quality. Adding graphics and additional uniquelization of both static and video creatives is available in the free version of Canva. Ideally, you should use unique creatives, the one you made yourself, and sources taken from the stocks or TikTok. You'll have fewer problems in this case with rejection and you can achieve better conversion, but for the test of the offer, in order to understand if there is any sense to drive on it or if creatives are added, you can use a unique creo from Spy-services.
By the way, this product is known in the CIS, so it is available on such marketplaces as Wildberries and Ozon. Take a look, google it there, look at reviews and use what you find there to make creatives.
Launch of advertising
We've done with creatives, we're ready to launch. Go to the pre-warmed account, go to Ads Manager and create a campaign for Leads. Choose a site, then the goal of conversion, that is Leads. Then for the first time the budget can be left like this. Edit the GEO, we are interested in Italy. Age from 25 to 55. We make the assumption that after 55 people don't use veneers, though it is silly, let it be 60. Put both genders at this stage. Choose the location. We remove the Messenger and Audience network at once. Here we remove some playsets that won't fit our CREO format and they are unnecessary. Mostly they'll waste your money.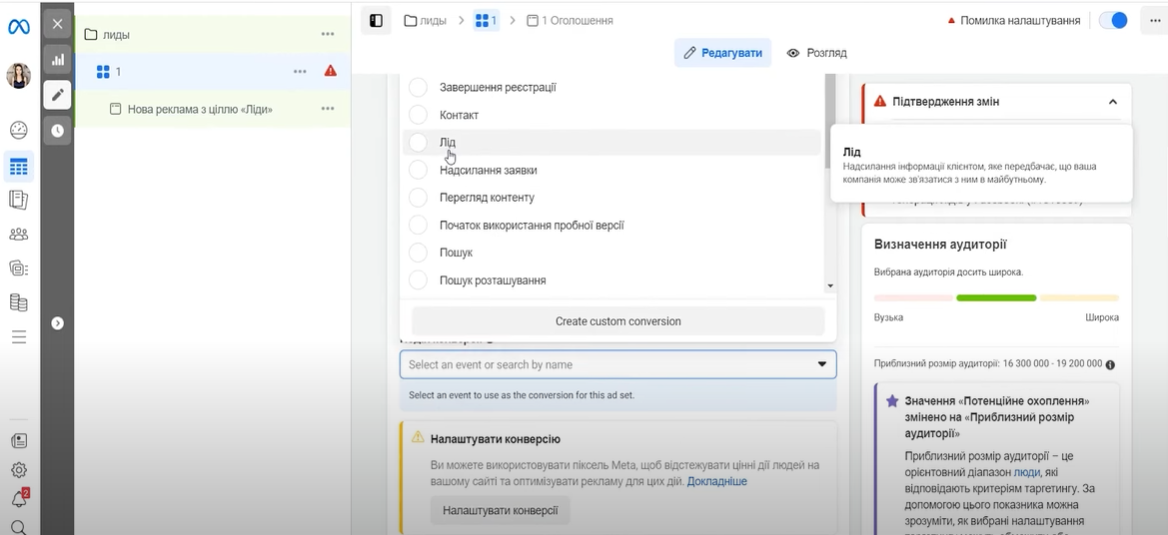 Let's move on to the creatives.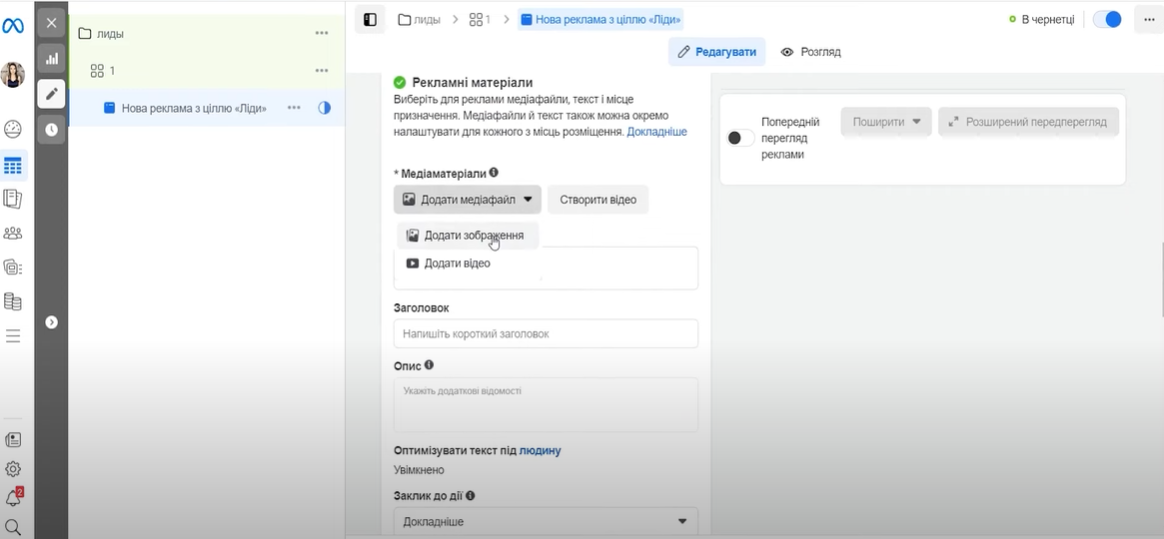 We choose a creative that we made in advance.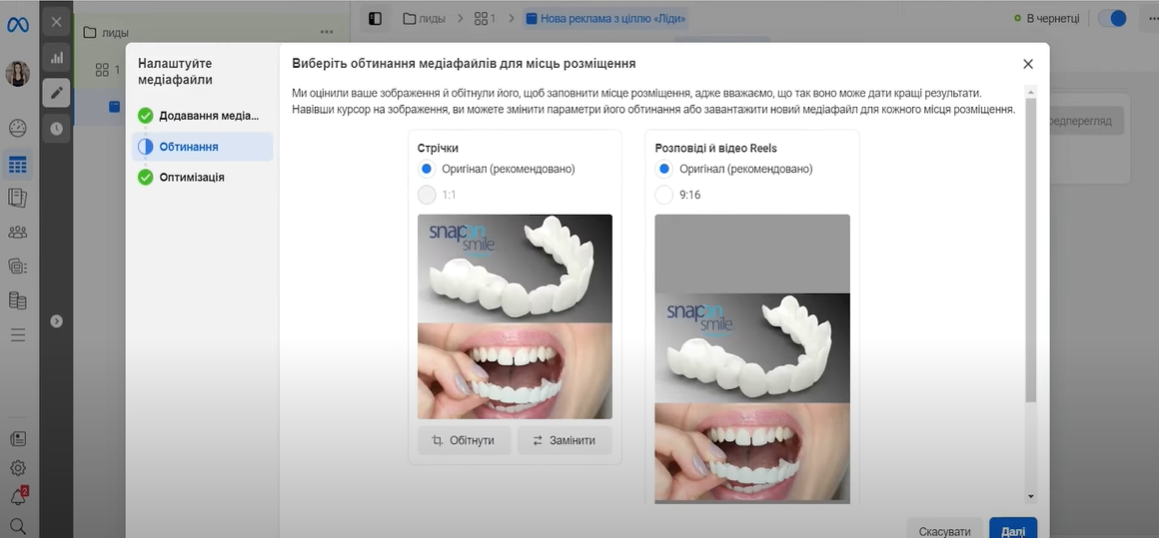 This is the creative we chose. We already know that a static like this is not banned on this offer. We didn't add any extra texts except for the Logo on the creative. Texts will be in the ad description. After a simple creative with the lowest ban probability will be approved and will begin to optimize, you can add some creatives.
We add an innocent headline: "A Hollywood smile is now available to everyone". No stop words in the description either. There we write: "They perfectly fix broken and damaged teeth and fit all kinds of jaws. Find out the price and place your order!"  Then we paste in our URL. 
Pixel 
At this point, we need to add a pixel to the landing code. Let's move to the landing page, we insert our pixel in the home page code before the closing <head> tag. This is a standard pixel that you take from the manager. Save the changes.
Then go to the page "Thanks" and now insert the code there before the closing <head> tag.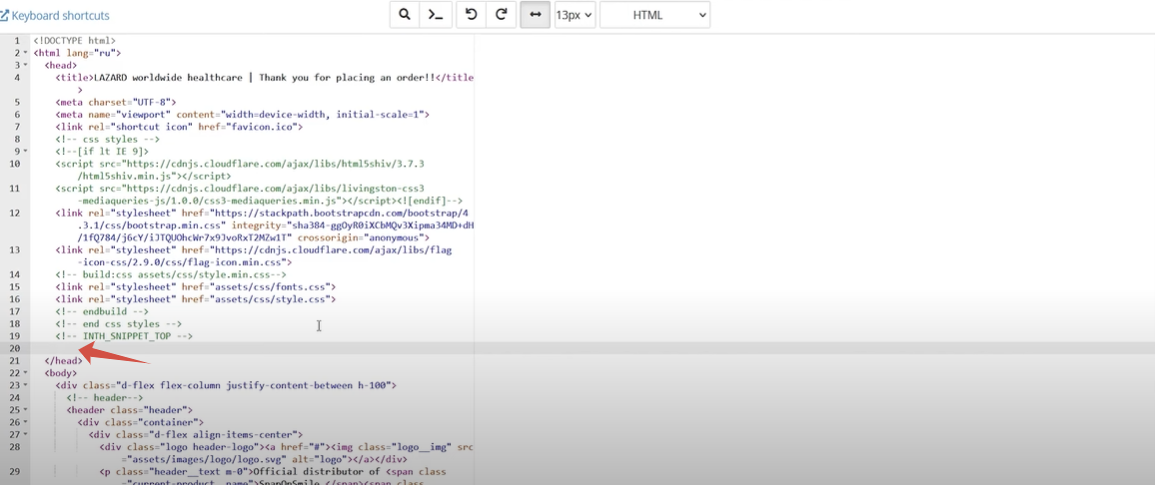 In addition, add a line to the code, in which we write conversion events in our case it is a Lead. Save. Now we are ready to create a campaign. Publish.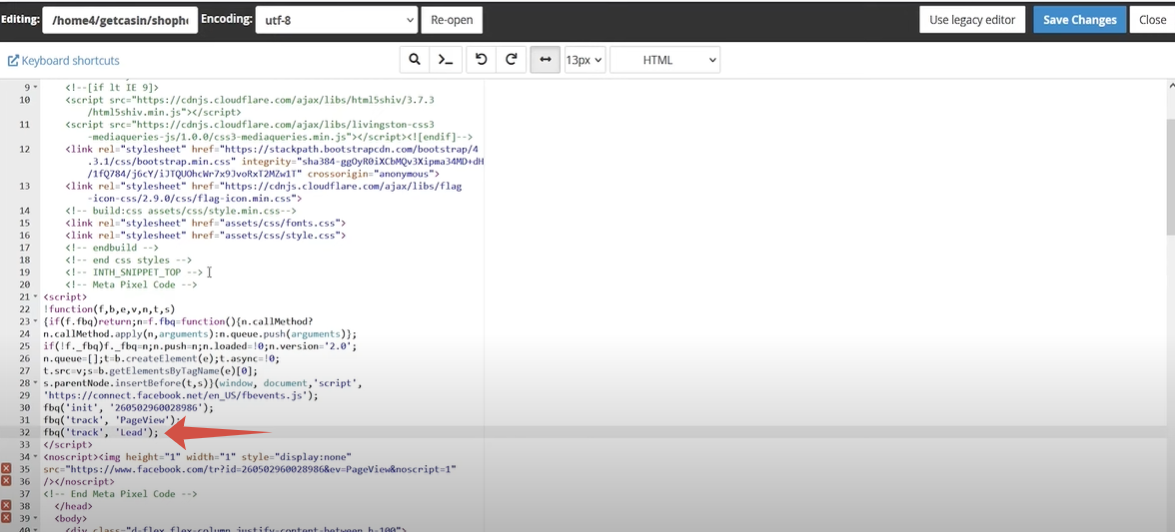 Go ahead. In this case, we start with one adset and one creative. We use such a simple set-up to warm up the account more gradually, and we'll start duplicating adsets from the second day of the driving.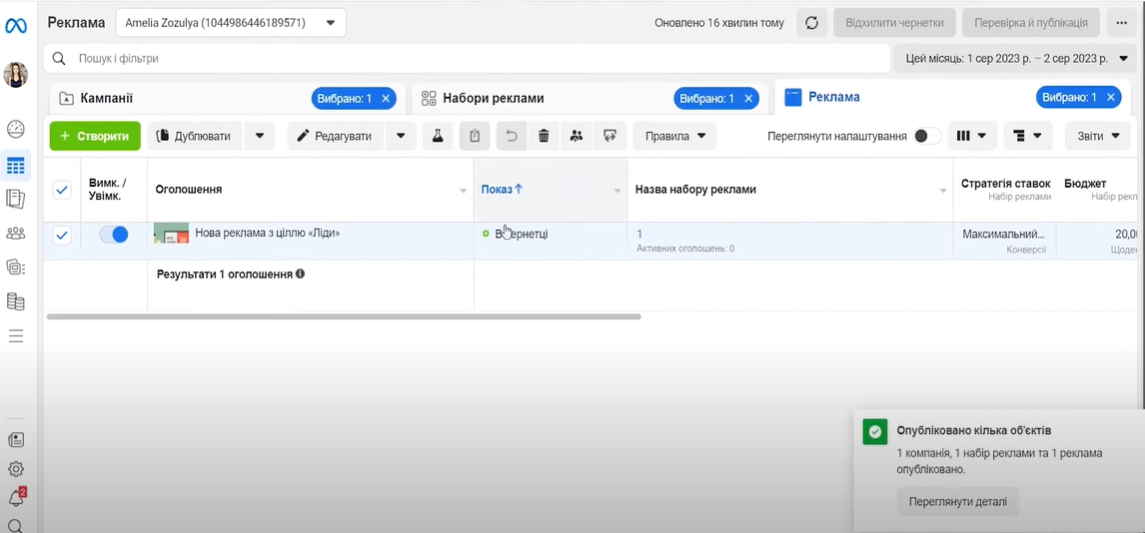 Now we need to let the ad campaign optimize for 1-3 days and then we'll move on to analyzing the results of our launch.
Analyzing the results
4 days have passed since the campaign launch and we have our first results. Our creative works and started to bring leads at a reasonable price. On the second day, we duplicated the first adset and changed the targeting settings leaving only women. By the end of the day, it became clear that such Leads are cheaper and we made a duplicate of this adset and added a new creative. The new one came out a little more expensive, which resulted in the higher cost of Leads in this adset, but it's all a subject of optimization. Don't forget to clean the creatives. The product is not new, people have used it and therefore there can be negative reactions. It is better to delete such comments immediately so that they don't affect the conversion rate of your ad.
In dr.cash admin panel, we have this statistic: 17 approvals, 14 leads in the hold and 22 rejections. Earned: $221 with spent: $185, meaning, we make money even without good approval, which will level up anyway with the current approval. We should get 5 approvals more at 80 dollars from the hold and in this case our ROI will already grow to 60+ even with the fact that we had taken creatives from Spy-services and had uniqualized them only a little bit, and had done nothing with landing. Here you can see all the Leads.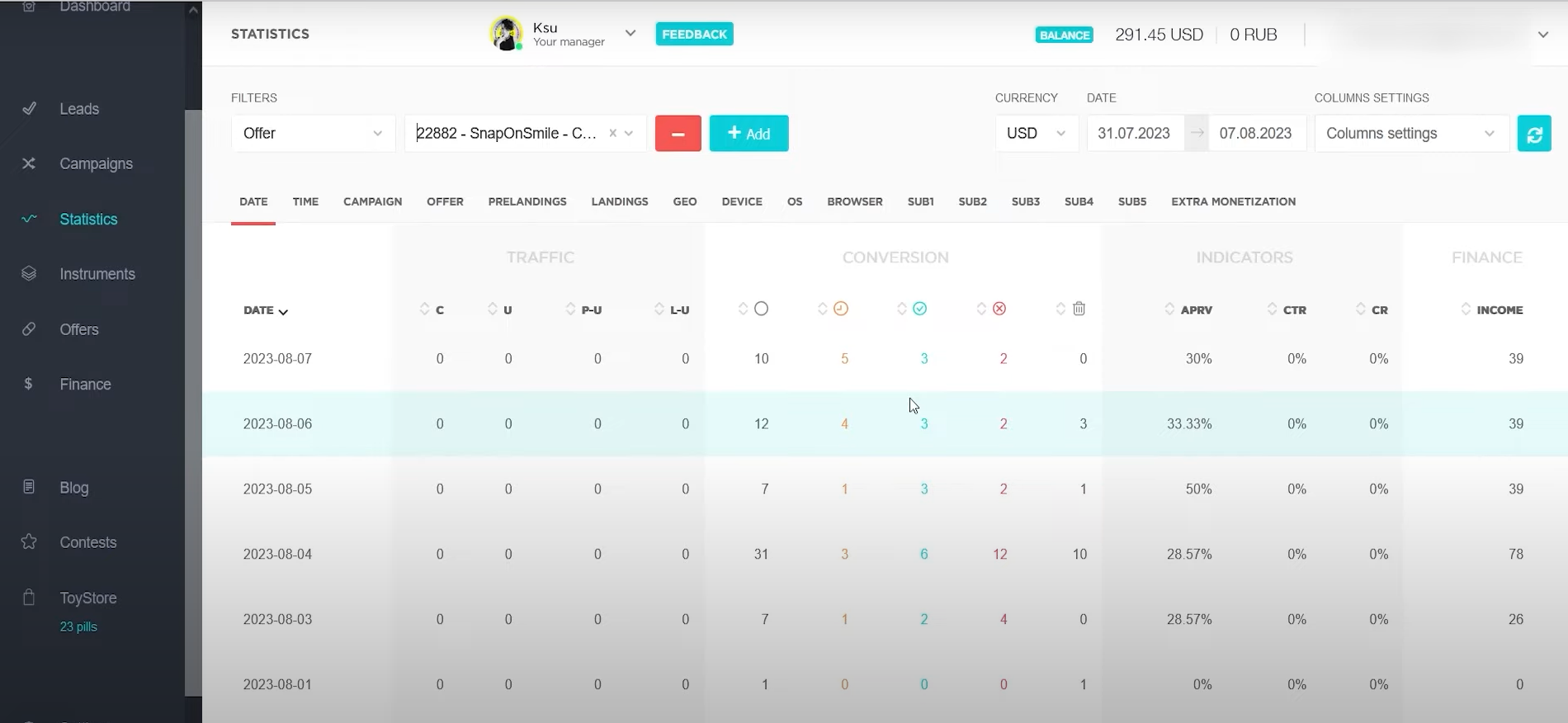 It tells us that the offer is very promising in the Italian GEO and ROI here can easily run even 100% with a more conscientious approach to creatives and landings.
Reviewed the step-by-step process of pouring traffic to Facebook. Also shared tips on preparing and verifying accounts. This article you can safely use as a manual for working with white offers, of course optimizing certain settings for your offer, GEO and needs.
Want to start with nutra? Have questions about the case-study?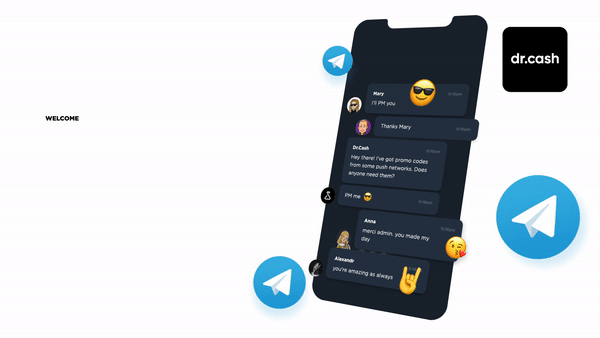 All the nutra is discussed now 24/7 in the telegram chat  Nutra Affiliate Community 
Quick help for beginners
Sweet cases for motivation
Exclusive bonuses from partners $$$$
Intelligent moderators and all support for affiliate network in one place
20.10.2023