Each webmaster strives to fully automate their processes for tracking non-working funnels in order to be able to diversify their expenses on ad launches in time and minimize lost time and profit. Doing a constant manual search of all advertising campaigns is quite energy-consuming. So the market offers many useful services that can be useful when working with traffic. In today's article, we will look at trackers and tell you why a webmaster needs them.
   A tracker is the software designed to automate collection, processing and analysis of the ad campaign data. Thanks to it, campaign optimization becomes faster and easier because we can see the required information within the framework of one program (we also talk about trackers in our video "Affiliate tracking software: why you need it and how to set it up by example of Binom tracker"). Also, a tracker can help you to manage and automatically redirect traffic, test bundles, cloak and do many other things – we'll talk about them a bit later.


   Without a tracker, you would keep a number of tabs open, get annoyed because of data delay and check the tables manually. It doesn't feel like a problem for a beginner, but you will have to spend more and more time on these tasks as the number of affiliate programs and the amount of traffic you work with increase. There's no way around analytics, it's the routine allowing you to eliminate ineffective bundles and increase conversion of profitable ones.
This is why we award trackers with the title of Super-Heavy-Weight Absolute Must Have!
Tracker Features
The basic set of features for each tracker is almost the same:
Campaign effectiveness monitoring. In other words, a tracker collects statistics from affiliate programs and ad networks: impressions, clicks, leads, conversion, payouts and etc. The data you need to create and manage ad campaigns. Reports on ad campaigns are also on this list.
Analysis of traffic source effectiveness. We can also evaluate effectiveness of different sources, finding out where the users come from.
Landing page analytics. The system collects statistics on every landing page: clicks, expenses, profit
Offer analytics. Trackers provide information about GEOs, clickability, leads, expenses and profit. You can sort this data by a variety of criteria
Click analytics. A tracker shows click ID, traffic sources, the names of ad campaigns and the offers associated with them. You can filter the data by profitability, country, offer and status. You can also export data as CVS files.
Traffic categorization. You can enable traffic redirection based on the conditions of every offer. Redirection allows to make the best use of traffic.
Trigger creation. Tracker allows to specify the conditions for certain commands to enable the system perform them automatically. For example, automated traffic redirection. Set a rule and, once the traffic limit of an affiliate program for an offer is reached, the traffic will be redirected to another affiliate program.
Tracking bot traffic. Many systems allow to monitor bots to prevent ineffective ad campaigns and provide good results to advertisers.
Split testing. You can estimate the effectiveness of each element of a campaign – landing page, creative, buttons and etc. – at a minimum cost at the initial stage with the help of this feature. Choose the best options and use them for promotion.
In addition to basic features, developers of each tracker try to stand out of the crowd with the help of unique ones. Thus, some trackers offer:
Shared access.
Tracking conversion of parts of a sales funnel.
AI-driven testing tool to check bungle effectiveness
Smart rotation. In other words, you can redirect a user to the landing pages he or she hasn't visited yet.
Click fraud protection
In-built landing page constructor.
Of course, cloaking feature.
Some trackers have extra options allowing to hide your bundles and creatives from ad networks, other affiliates and spy services. By the way, here's our video dedicated to spy-services (you can watch a detailed video "Spy tools for affiliate marketing: comparative review and how-to-use guide" in our channel).
Now, you know about the features of the trackers. Let's talk about their types.
What are trackers?
Generally speaking, there're 2 kinds of trackers based on installation type – server trackers and cloud trackers.
Server trackers are the software that has to be downloaded and then installed and activated on your server. This type's benefits are:
Fast experiences
No traffic limits as long as your server can handle it
Better privacy: the information is stored on a reliable personal server
Licenses are relatively cheap
It also has some drawbacks:
You have to pay for a server
You need certain skills and knowledge to set up and maintain your server
The highest speed will be available only in the region where a server is located. It means that the speed depends on how close a target GEO to the server is. If the GEOs are far, you have to rent several servers, and, therefore, pay for several licenses.
 Some benefits of cloud trackers are:
You don't even need to download a tracker, you do everything online.
The data is stored on the developers' servers and is reliably protected.
The system chooses servers for different GEOs automatically, thus, data transfer speed is always high.
You don't need any special skills or knowledge to set up a tracker.
There's only one drawback, but it's quite serious.
Cloud solutions usually have limits for events, visits, clicks and etc. If you exceed the limits, you have to pay for that or switch to a more expensive subscription plan. The problem is that cloud solutions are way more expensive than server ones.
Here're the conclusions to draw:
Server trackers are better for those who chose a specific GEO and/or plans to work with the nearest countries.
Cloud trackers are good for beginners: they have free versions with low limits. This option is also good for the affiliates who work with a lot of traffic from different continents.
Also, trackers can be categorized by their price:
free – the tools with limited features that can be used for free as long as you want;
shareware – tools offered on a trial basis;
paid tools – you have to pay before you start using a service. As a rule, these are comprehensive services for experienced affiliates who know what tools they need to work with data.
Trackers collect data with the help of pixels or postback, but postback is a more common option – not all affiliate programs work with pixels. The software collects the data after it's processed by an affiliate program. It can collect both standard parameters and a customized set of parameters. 
In brief, here's how a tracker works:
You start working with some traffic source. Every click has a unique ID. A tracker collects data and keeps record of all parameters of a lead: country, city, OS, IP and etc. The amount of data depends on how you set up tracker parameters.
ID data is located in a URL address. Each time someone clicks on an ad, a tracker receives the information that will be analyzed later. Thus, you'll know what ads and keywords bring the best conversion.
When a lead performs a target action, a tracker gets postback with click ID and parameters from an affiliate program: date and time of following the link, IP, payout, information about the actions themselves and etc.
Analyzing postback data, the program finds the source of conversion and forms statistics.
Thus, the things are easier than they seem to be.
Now, it's time to learn more about trackers themselves. Let's have a look at the 3 most popular tools:
Keitaro TDS
Keitaro TDS is a server tracker released in 2012. Initially, it was marketed as TDS. The program was improved and refined many times and got dozens of new features since then. Up to date, this is a very flexible tool that can be set up in a large variety of ways – and experienced affiliates appreciate Keitaro for that.
There're 3 subscription plans to choose from depending on your ambitions and the scales of your campaigns: €25, €40 and €70 plans.
Here're some of Keitaro's features:
Split testing of landing pages, offers and bundles;
Traffic simulation for checking campaign settings;
Landing pages can be edited right in a tracker;
In-built bot recognition system, the tracker's base contains more than 0,5 million IP addresses
Detailed reports based on more than 30 metrics;
A base with more than 120 traffic sources and more than 250 affiliate programs;
And, of course, cloaking tools.
The list is much longer – Keitaro is a really powerful tool for an affiliate.
However, it has some drawbacks, too:
First of all, the nuances of server trackers' operation we talked about earlier in this video;
Secondly, this tracker is so flexible that many beginners find many tools useless. If you are new to affiliate marketing, you should better choose a simpler tool. But if you're very diligent, you can use the knowledge base located on the website.
Also, some users complain that problems with reports occur when traffic volume exceeds 100.000 and when they use Keitaro together with FB.
Binom
   The next tracker on the list is Binom. This is a server tracker, too, but you can use the tracker's cloud and delegate server maintenance to the company. Many affiliates love it because it can process large volumes of traffic and create reports in seconds. According to the tracker's website, it takes the tracker just 7 or even 5 milliseconds to process a click (different sections provide different information).
   The main license costs $99/month, the licenses for other servers will cost $49. If you pay for an entire year, you can enjoy 30% OFF, thus, you'll pay $69 monthly for a license. There's also a 14-day trial period. Cloud solution costs $199 per month – this price includes payments for a license and a server.
In addition to high speed, this tracker can boast of:
User-friendly interface,
High redirection speed
Quick & friendly support team
Support of more than 1000 000 clicks per 24 hours
The drawbacks are:
All drawbacks of server trackers,
Administrator's board may lag if a team works together, however, apart from that, the tool works fast.
AdsBridge
AdsBridge is the last option on the list. This is one of the most popular cloud servers. It has been helping to monetize traffic for 8 years. It offers several subscription plans worth $29-$799 per month, you can test each of them for 14 days. They are different only in terms of monthly number of visits.
AdsBridge has powerful tools. You can benefit from:
Automated ad account optimization. This feature automatically tracks, identifies and redirects traffic to the most effective offers and landing pages.
Smart link system. This system analyzes each visitor who followed a certain link and redirects each visitor to the most suitable offer which is likely to bring the best conversion. Also, the system can redirect traffic based on more than 20 parameters.
Bot tracking.
In-built URL masking feature.
You can set up cloaking.
In-built landing page constructor and hosting.
You can use the system as a team
Users also criticize AdsBridge for:
Its price,
The interface – it's hard for beginners to deal with it
They also complain of the support.
Theoretical training is over, it's time for practice. Now, I'll show you how to set up Binom.
How to set up Binom for work?
We have examined in detail the most popular trackers and it is time to move on to practice. In our video "Tracker for traffic arbitrage: why you need it and how to set it up on the example of Binom", we have step by step examined all the stages of setting up a tracker from registration, selecting a source, an offer, setting up a postback, to setting all the necessary criteria for launching an advertising campaign, using the example of Binom .
Conclusion:

From all of the above, we can conclude that trackers can greatly simplify the work with traffic for the webmaster due to the ability to optimize a larger number of routine tasks, thereby saving time and budget, and identify inefficient work funnels and diversify costs due to timely translated traffic.
Everyone chooses a tracker for work based on needs, skills and budget. The effectiveness of working with each software can only be assessed with full use of the functionality and well-built settings. The technical support of the tracker, the reference information provided on the site and, of course, our detailed guide can help you with this.
With care for your profit, dr.cash!
Want to start with nutra? Have questions about the case-study?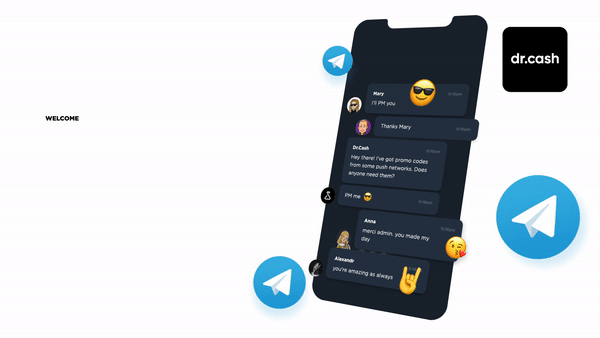 All the nutra is discussed now 24/7 in the telegram chat  Nutra Affiliate Community 
Quick help for beginners
Sweet cases for motivation
Exclusive bonuses from partners $$$$
Intelligent moderators and all support for affiliate network in one place
09.12.2022