For more than two years, TikTok has been conquering users around the world, attracting them with its entertaining content and the ability to broadcast any media to the masses without much effort for promotion. TikTok has also become a kind of marketplace, where commercials and announcements began to appear, bringing more and more sales representatives and marketers to the site (talking about their projects and products). Consequently, the demand among webmasters to work with this source of traffic has grown significantly. Demand creates competition. More and more profitable cases appear on media buying forums, fueling interest in this source.
There are several reasons why webmasters choose TikTok for work:
Preparing to launch an advertising campaign takes less time and money.
Large audience coverage due to the site's simple interface and ease of use (the number of users worldwide exceeds 1 billion). Daily flow of registrations and retention of users of any age.
More loyal moderation and rules for posting ads.
   TikTok has its own posting rules, restrictions, moderation and bans. Today we will talk about the foundation of any advertising campaign - about the accounts that webmasters usually use when working with TikTok. We will consider their varieties, features of moderation and possible reasons for bans.
What are the types of accounts for TikTok?
   TikTok has its own peculiarity of accounts, it does not consist in the method and quality of pharming (the absence of a pharming process as such), but in the category. If you work with standard "white" niches, then the work is much easier, the account lives for a long time and there are no problems with moderation, if the creatives are in order. To work with other categories of goods, the webmaster will need to choose accounts more carefully, the quality of which directly affects the success of further work. Let's consider them in more detail.
Self-registration (social) account. To work with the source, the webmaster needs to create a TikTok Ads account. He will independently conduct all advertising activities: create cabinets, choose types of accounts, launch a campaign, balance, etc. To register an account, you will need a phone number (the rest of the registration data is not so important). Phone numbers are usually purchased using special services where you can select any region or source. There are numbers specifically for TikTok. It is better to use such an account not immediately, let it exist for several hours. Social accounts can also be bought from a trusted seller, which will save you a lot of time.
   When working with such accounts, you do not need to use a proxy. When registering a social account, not all regions are available to the user. This criterion directly depends on the country of account registration.
Pros of social accounts:
fast preparation of accounts for work;
self-configuration and selection of the necessary parameters;
low cost of an account (the possibility of buying accounts in bulk);
fit more niches.
Cons of social accounts: 
as we said, it is better for accounts to give the account a few hours to rest, but even so, its trust will be low for moderation;
If the account gets banned, then it will be unlikely to unban it, as well as withdraw money from the balance;
GEO limit.
Agent accounts. This type of account is registered automatically, it already has a certain period of existence. Only a special agency can get such an account, hence the trust from TikTok moderation to agent accounts. A webmaster can get an agent account in the Affiliate Program with which he cooperates or contact the agency (may take a certain amount of time). You can create the required number of cabinets. Social accounts and agency accounts do not differ in internal settings, but they are completely different in work. Agent accounts are one of the most optimal and trusted ways to get started on TikTok. Let's see why:
all available GEOs are open, it gets a large selection;
direct support from TikTok is available;
increased trust from the source;
moderation is much faster;
when the cabinet goes into the ban, but the account is saved (it is possible to remove the blocking);
no VAT.
There are also prepaid and postpaid accounts.
In the case of working with prepaid, you need to make an advance payment (from $10) before running ads. It is better to make a minimum budget, increasing it gradually. If your account is blocked, you will not lose a lot of money on your balance (since it is almost impossible to unblock your account).
Postpaid accounts. Such accounts are usually only purchased, because they are not available in every GEO (limited list of Tier-1 countries). It is better to replenish the balance of such accounts with a bank card of the region, which will be used to work with traffic.
The principle of working with postpaid accounts is simple: money is debited from the balance one time on a certain date after the launch of an advertising campaign.
How to prepare accounts for work with gray niches?
   When working with social accounts, two options are available: manually register accounts yourself (you will need an anti-detect browser, a new email, phone number, proxy, payment data of a foreign company) or buy them from a seller. When you create an account on your own, the process should be as relevant as if it was created by a regular user for personal use. To pay for an advertising campaign on TikTok, you can use bank cards or use payment services.
   To imitate a real user, you can fill out an account yourself or buy a ready-made one. Ready-made accounts are empty and already filled (with avatars, logins, media and profile descriptions), the latter are more suitable for working with traffic. In the event of an account ban, the process of replacing it will be faster. There are also accounts with existing followers (a combination of bots and real people), of course they are more expensive. Therefore, a purchased account provides faster preparation for the launch of an advertising campaign.
   When buying accounts, you need to choose reliable and trusted sellers, they may be more expensive, but you will always be sure that after payment you will receive your purchase in high quality.
Features of moderation in TikTok, reasons for bans and options for bypassing.
   As we wrote above, TikTok is an excellent platform for run ads in absolutely any niche. But the site has its own rules and restrictions, which should be taken into account in order not to quickly fly into the ban. So undesirable and sometimes even prohibited (in some regions) categories include: financial niches (cryptocurrency, loans, etc.), adult offers, gambling, and of course everything that falls under the 18+ category. You can get a ban for an aggressive creative that violates the rules of the site or the offer was previously marked as "suspicious".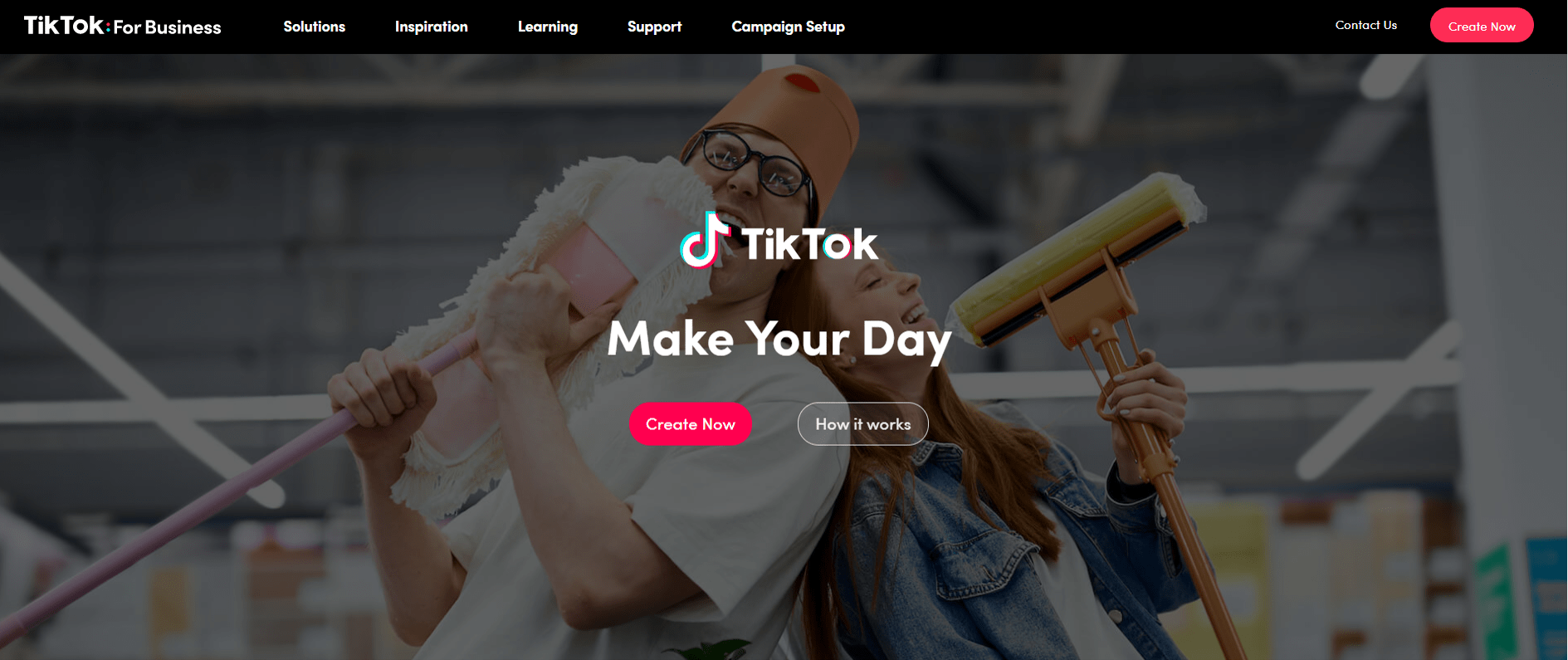 If your account was previously blocked, then new accounts will be moderated more thoroughly and severely. Therefore, it is better to work with offers in which you are sure that they have not been previously seen in violation of the rules of the site.
How can you check the offer?
   You can check the offer from a social account by putting a small amount of money on the test. If your offer successfully passes moderation from self-registration, then you can run ads already from auto-registration account. Gradually, you can increase the amount of traffic to your advertising campaign if you find a working link. Recently, TikTok has greatly improved its moderation algorithms (moderation was carried out manually), which was caused by a large amount of content on the site. Now they connect bots for moderation, which also has its own characteristics. If you do not violate the rules of the site, then you will not have problems with moderation.
Practical tips for working with nutra on TikTok.
   TikTok platform is loyal to the advertising of nutra products and it is not difficult to pass moderation. To do this, you need a trust offer (if you are not sure about the choice, you can always contact your manager for advice), conduct a test from a social account and, if moderation is successful, launch an advertising campaign from a more trusted account.
The principles of working with nutra traffic in TT are very similar to other sources, but still have their differences.
You can safely test ads of various nutra niches: anti-aging cosmetics, varicose, ephelides, acne, etc. When working with the "weight loss" niche, it is better to use the existing cloaca.
It's better to use a pixel to track the conversion and have all the data in your account.
When preparing an advertising campaign, you need to avoid screaming texts about instant results and promises of a quick solution to the problem. A well-thought-out landing page is half the success when working with traffic and passing moderation on TT.
The success of an ad also depends on quality creative. TikTok has its own characteristics, due to the specifics of the site.
To avoid the forbidden topic of promises of instant product action, it is better to use the native approach. Take the format of the stories of a person who has achieved a positive result using the advertised product. You can shoot videos yourself, showing content in the first person (but this is not always suitable for a niche) or advertising a product and talking about its advantages. Such creatives do not violate the site rules and are more positively perceived by the audience.
Creatives also have a requirement for uniqueness, so if you don't want to shoot yourself, you can collect the necessary video in editors.
It is necessary to raise the rate before the turnaround appears, then optimize.
You need to monitor the conversion, change the creative if there are no leads, even on minimal budgets.
Conclusion:
   So, TikTok is one of the most popular platforms for working with traffic, its audience is growing daily and the service is already attracting more and more users of absolutely different ages. This greatly increases the possibilities when setting up a target audience for a launch.
   Regardless of what type of accounts you use, you should always remember that the site is constantly rolling out updates and moderation criteria can also change. The key to success at launch is a correctly selected and prepared account, a customized clock (if necessary), a trust offer (preferably a new one or one that has not been previously marked as "undesirable" by the site), high-quality landing and creative. Any approach always needs tests, analytics and improvements, then a good profit is guaranteed for you!
Want to start with nutra? Have questions about the case-study?
All the nutra is discussed now 24/7 in the telegram chat  Nutra Affiliate Community 
Quick help for beginners
Sweet cases for motivation
Exclusive bonuses from partners $$$$
Intelligent moderators and all support for affiliate network in one place
14.06.2022